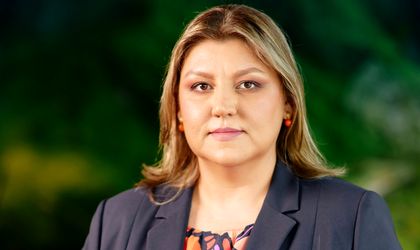 With an 11.1 percent growth of its local business, supported by a double-digit expansion on 7 of its 9 divisions, Nestlé Romania aims to double its operations over the next 5 to 10 years. Silvia Sticlea, Country Manager at Nestlé Romania, talked to Business Review about the company's financial performance both locally and globally.
By Anda Sebesi
Earlier this year, Nestlé Global announced its financial results for the first nine months of 2022, reporting significant organic growth. What were the main drivers of these results?
For the first nine months of 2022, at the Group level, Nestlé saw an organic growth of 8.5 percent, with real internal growth (RIG) staying resilient at 1 percent and pricing surging by 7.5 percent.
In the Europe Zone, organic growth reached 7.1 percent, with pricing accounting for 5.7 percent. RIG was resilient at 1.5 percent, following a high base of comparison in 2021 along with supply chain constraints. Foreign exchange negatively impacted sales by 7.5 percent, reflecting the appreciation of the Swiss franc against the Euro. The Zone saw market share gains in coffee, Infant Nutrition, and plant-based food.
By product category, the key growth driver was PURINA PetCare, fueled by premium brands Gourmet, PURINA ONE, and PURINA Pro Plan. Sales in Nestlé Professional grew at a strong double-digit rate, led by beverages. Water posted double-digit growth, with strong contributions from international and local brands. Sales in Infant Nutrition also grew at a double-digit rate, based on strong momentum for human milk oligosaccharides (HMOs) products. Confectionery reported mid-single-digit growth, with strong demand for KitKat and seasonal offerings. In the third quarter, our vegan KitKat V was rolled out across 15 European countries. Coffee posted low single-digit growth, led by NESCAFÉ soluble coffee, and continued strong sales developments for Starbucks by Nespresso. Culinary reported a sales decrease, impacted by negative growth in pizza and noodles. Garden Gourmet plant-based products continued to see strong double-digit growth, reflecting new product launches.
What can you tell us about Nestlé Romania's results in the first nine months of this year?
Nestlé Romania finished the first nine months of the year with a growth of 11.1 percent, supported by a double-digit evolution in 7 of our 9 divisions, including Infant Nutrition, Pet Food, Nespresso, Nestlé Health Science, and Coffee. We expect the good overall performance to continue until the end of 2022. Solidarity with society and its current needs is important to us, and the products donated by Nestlé Romania since the beginning of the year have exceed CHF 600,000 and 90 tonnes of food and beverages. In a period characterised by frequent changes, I am glad to lead a united, strong, and ambitious team, which has demonstrated flexibility and adaptability to further develop a business that brings beloved products into the homes of Romanian families. Through all of our projects, we reconfirm our commitment to improving the quality of life and contributing to the well-being of society at large.
In the third quarter, the OptiXpress brand entered Nestlé's portfolio and launched the Nestlé LITTLE STEPS® 3 range for young children in cardboard packaging designed for recycling and spoon dispensers made of at least 95 percent cane plastic, a renewable resource. On the packaging of JOE Mini, JOE Good Day, JOE Dreams, JOE Original Bar, and JOE Noir Bar, you can already find the Rainforrest Alliance and Cocoa Plan symbols. Nestlé communicates the "100 percent cocoa from sustainable sources" message on 34 percent of its Sweets portfolio.
What are your expectations for the evolution of the Nestlé Group this year from a financial perspective, both locally and globally?
At the Group level, we expect organic sales growth of around 8 percent. The underlying trading operating profit margin is expected around 17 percent. Underlying earnings per share in constant currency and capital efficiency are expected to increase. In Romania, we estimate a double-digit growth, upholding the year to date trend.