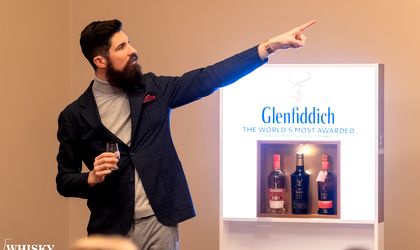 Glenfiddich, the most awarded single malt whisky in the world, was present at the third edition of Whisky Fest in Bucharest. On this occasion, Alexandrion Group brought Struan Grant Ralph, Global Brand Ambassador William Grant & Sons to Romania, in order to hold two mentoring sessions. BR sat down with Struan for an exclusive interview about Glenfiddich's positioning and strategy, as well as the global whisky industry and its experience on different markets.
By Romanita Oprea
About Struan Grant Ralph

He has been Glenfiddich's Ambassador since 2016. He has a Master's degree in Chemistry and strong knowledge in the art and science of making and producing whisky. His love for this drink guides his steps all over the world, from Osaka, Manilla, Melbourne, Kuala Lumpur to New York and Bucharest.
You worked in some distilleries prior to being a brand ambassador. How has that helped you in your current career?
It helped a lot and I was fortunate enough to grow up in an area of Scotland that was pretty famous for its distilleries. The first few jobs I had were in distilleries. Right now I represent a very famous Scottish whisky brand and I still have the same passion for whisky making and the culture around it. It gave me a head start; I was quite young back then, I enjoyed it and it gave me that passion and knowledge as well.
So were you passionate about whisky prior to working there or did it develop when you started out?
I think I was finding out. I was definitely passionate about it; I thought it was a very noble art. It was fascinating industry and in the countryside, where I am from, it employs a lot of people, some of whom are really talented, and lots of friends and family have been embroidering whisky so this is where I took the inspiration from.
How important are your country's heritage and history with whisky, both for you and for the brand?
For a lot of these brands, the heritage is the starting point. And for a lot of them it will probably dictate the style of the liquid and the way we make it. The heritage might be family ownership or it might be a large merchant company. It is really the building block for everything we do. Glenfiddich has a very important founding figure called William Grant who is very inspirational, as he installed this great spirit of independence and family ownership. Family companies of our size are quite rare across the world, and especially in whisky. And I think this is really important because we get to be much more independent, powerful and pioneering.
You've worked on both the Asia Pacific market and the American market. What are the main differences between them when it comes to whisky? And can also compare them to Europe?
Consumption is different. I would say Asia is more about bottle consumption and quite high energy consumption. In some of the more traditional trading places it tends to be by bottle, sometimes mixed with things such as green tea, in cocktails. America is quite traditional with single malt, and it has a big hospitality industry (lots of hotels and bars). In Europe it varies, because you have very big single malt countries such as Britain, France, and Germany and then you have some that are just starting to pick up the single malt. I am starting to see the different regions becoming more and more similar. I've been to 86 countries and you start to see similarities in terms of consumption and business models.
Why do you think this is happening?
I think it's due to globalization in business. Brands are trying to go for some consistency, but then, because people are so digitally connected, someone in Shanghai knows exactly what is trending in New York as they have either travelled there or the trend starts to be the same, etc. Drinking trends are becoming quite similar. I think that we are more connected than we've ever been. For example, I can do an event in Sydney and someone can watch it live in Alaska. Because we have social media now, people get a good understanding of what you are as a brand even though they may have never interacted with you.
From what other points of view have the social media and new technologies of recent years impacted the way your brand communicates?
I think it's better with social media because we were able to communicate quite well. From someone who grew up as I did – first time being an ambassador all I had was a laptop and a Blackberry, there was no Facebook, no Instagram, no anything, and now with just one phone you can travel the world and talk to everybody. Right now the messages are reaching consumers in an instant and that is a huge advantage. One disadvantage is that social media is a very competitive market and that there will be a lot of people competing for the same attention on the whisky segment. Still, I don't know whether that would be a disadvantage or not because, historically, we have been really good at it. But it has certainly changed, in the nine years of my career I've been seeing a very rapid change.
How is Glenfiddich positioning itself right now on the whisky market and what are your goals for the following years?
Luxury positioning. In a nutshell: elevating experiences for whisky drinkers, releasing whiskies that are going to be celebrated and consumed with energy and excitement. We are really excited to be launching the 32 year old Grand Cru. Romania itself has a great potential for Glenfiddich, it is an important market for us and we will continue to release very high quality whisky and to provide people with new experiences and causes for celebration.
Do you think you have competition on the market?
It's interesting because Glenfiddich is a market leader and therefore the only competition may be ourselves. I think that we as market leaders have a responsibility to drive the single malt industry, so things like this evening when we will be talking about education, mentorship and advocacy, the fact that over this weekend I will do seminars for over 200 people training them about whisky – those are the kind of actions we should take. This is the responsibility we have: training people and telling them more stories.
In whisky, most of the competing brands would be friends anyway. Scotland is a small place, and if you think about the distilleries around my hometown, I believe that there is room for everybody. I don't think this is a very competitive category, actually.
You once said that Glenfiddich has a very creative backbone. Tell us what creativity means to you and how that is manifested in the brand.
Creativity for us I think is the ability to experiment and take risks, push boundaries and maybe do things that normally wouldn't stand before. Historically, we've done this before. In terms of things that we've released as a distillery and the bold things we did – we had the first single malt whisky that was exported outside Scotland. We are experimenting with different types of casks, with very forward thinking things to reduce waste or the impact on the environment. But in terms of what we do as ambassadors, it's the day-to-day creativity to be able to do whatever you want to represent the brand. Which has always been really important to us as well.
How do you think the brand's history is being represented today and how hard is it to still be able to do that?
I think that maybe for us it is not too hard. We have a really rich history and we've been telling it for such a long time that it seems quite easy. We have celebrated that history a lot over the years and the fact that we come from an independent family business means we can tell people why that is important and how it can benefit them. It's a foundation to the brand to talk about the history, the heritage, the brand; there is some great storytelling there. So much about great whisky is about telling great stories and cheering that with an audience that might be new to the category and is finding out about these new things for the first time.