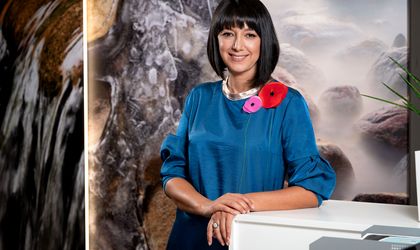 Irina Munteanu, CFO Veolia Romania and Apa Nova, tells Business Review about the appropriate ways in which local companies should approach competitiveness and what they can do to increase it against their regional or international rivals. She also highlights the measures Apa Nova has taken in order to increase its competitiveness in Romania.
By Anda Sebesi
What is the current situation of Romanian businesses regarding competitiveness?
Competitiveness means excellence in Romania. It offers energy to economic life, stimulates economic sectors regardless of the business environment, creates ideas, generates high standards based on incentive legislation, funding, and business success. Competitiveness is a fundamental business benchmark that comes with globalization. Our goal on the Romanian market is to develop advanced technologies dedicated to water management and energy to improve competitiveness, reduce our environmental footprint, create jobs that cannot be outsourced and establish a model that can be exported.
What are the best strategies Romanian companies should adopt to increase competitiveness?
In order for Romanian companies to have significant results, a careful analysis of the market is very important, followed by developing the business in the directions required by the different types of customers depending on each business (current, aspiring or potential). In order to become competitive, companies in Romania must innovate, be efficient and keep in touch with today's consumers' needs. Digital technology is revolutionising cities. More connected and better managed, smart cities are optimising the operation of their infrastructures and increasing their competitiveness, attractiveness, and sustainability. As they become more efficient and transparent, they are responding to the new expectations of their citizens, who want to take a more active role in managing their cities. This is why it is important to use digital platforms for employers and clients and to have access to all that digitalization means.
How can local companies increase their competitiveness against regional or international rivals?
Companies represent a national or international rival only if they have resources: labour force, existing infrastructure, technological and financial resources, advanced technology and efficiency in their industrial structure. The competitive advantage arises when a company can use the required combination of resources at low costs or when these resources are used at a higher quality level. This is what we do at Veolia Romania and Apa Nova Bucharest.
Speaking of money: how big of a budget does a company need in order to increase its competitiveness?
A business increases its competitiveness through the added value it brings to the society it to which it belongs. Professionalism, competence, efficiency can be budgeted differently depending on the type of business.
What did Apa Nova do in order to increase its competitiveness?
Apa Nova has undergone a natural process of modernisation and renewal, with increased efficiency and performance, both in terms of service quality as well as in terms of modern processes and a customer-oriented organisational culture. In each of the projects, campaigns and process that our company has carried out over time, the main focus was always on the environment. Furthermore, concepts like IoT, robotisation and AI must be an integral part of the logbook and strategic axes of companies looking to adapt to the new market demands and external environment. In this context, this is why Apa Nova is conducting a broad process of digital transformation on three pillars: customers, operational processes and employees. To implement its annual digitization programs, Apa Nova allocates carefully analysed investment budgets, in order to meet eligibility criteria and get expected results.