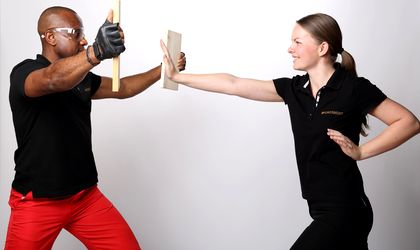 A professional fire-walker, a board breaking, bar bending, arrow breaking and glass-walking instructor, hypnotherapist, and neuro-linguistic programming (NLP) trainer, certified and registered with The American Board of NLP (ABNLP) since 2006. Oluwatosin Ogunnusi – or "Tosin" as he is known by his friends, family and colleagues – has trained thousands of people worldwide and is a very dynamic and charismatic presenter, considered to be the UK's number one motivational speaker. BR talked to him about the fear of failure and his main teaching principles in personal development.
By Romanita Oprea
How did you choose this professional path?
In a funny way, I think this professional path chose me because as a kid, growing up in a poor family, I didn't have much else except a passion and didn't know what gift I had, so it took a while to figure that out. But I started to realise that whenever people would ask for my help and I told them what I thought to be true, they always said my advice was amazing and that it really helped them. At the same time, by sharing things with other people, I didn't know I was actually helping myself.
My father used to work for the Nigerian High Commission, and in 1992 he got posted to London, therefore I had to go to school there and master my English language skills – I was in college, but I was also working part-time and then full-time. When I got my first full-time job, at one point I started to ask myself why I was doing that type of job – I was sitting behind the desk doing accounting, but that wasn't me. I had a lot of energy and didn't know what to do with it.  One day, a lady came to our company to do a review and she brought along a speaker. His name was Bob Proctor. I saw him speaking and within three hours I was blown away. I was amazed.  It was the moment when I realised that this was what I wanted to do. So I asked him how much it would cost to get trained after his method, and he told me 10,000 dollars. But I didn't have that money.  He told me: "son, if you cannot afford it, you cannot afford not to". And he walked away. What he actually said was that I shouldn't give him my excuses. If you really want to do something, you have to forget about your story, you have to get up and do something about it.
Then I decided: I will show people that I can do it. I went and borrowed 12,000 pounds from Barclays bank, in order to also cover other expenses such as traveling, accommodation, and so on… it took me eight years to pay it back. And that was the beginning of my transformation. Now, I spend hundreds of thousands on personal development. I never stop investing in myself. Every year I do some sort of coaching, training. I am still a work in progress, but over the years I have been able to impact thousands of people and also to write. I am on my fourth book; it's a journey.
It was internal motivation in this situation, wasn't it?
Yes. And I had to figure out my own path in my journey. My book is called "Time to break free", because this is what I've learned in my experience so far. There were 7 key principles that I had to break through, some of which are: Mindset – having the right mindset to deliver; Values – what are mine, which ones are driving me to do what I do, to figure out who people are in all areas of my life; Success – what is that? Because people don't define it. They think it means celebrity status, money, houses, cars, etc. But it's not. Those are byproducts of success. You must define what it is you want. Success is a progressive realisation of a worthy idea. And I've had to figure that out myself; Emotions – I had a lot of negative ones growing up, I was damaged, but I learned how to let go of them, and I have a system to help other people do that; Purpose – I have always wondered: who am I, why am I here? I've always been a seeker and a learner. And I am trying to help people figure out who they are. The purpose is bigger than ourselves and it's always about serving others. You have to have a goal and all of a sudden the Universe comes to support you in your journey.
What are the main challenges you've faced besides the money factor, and what are the main challenges you encounter with the people you coach?
I only have one challenge and that is our conditioning. We are glued to what we know and are ignorant to what we don't know. The biggest challenge for me was not being willing to fail. The fear of failure is a big one for many people. Everybody wants to be right and I think that when you overcome those two fears and brace the unknown, life seems to be effortless. Because life is a rollercoaster: it's hard on the way up, it's fun on the way down, and so on. If you are in it, it's the same for me and you, for everybody.
When it comes to the fear of failure, do you see any difference in the way an entrepreneur sees it versus a CEO or a manager in a bigger company? And how do you work with that, on each level?
The answer is quite easy. The fear of failure means that we don't want to look silly. We don't want to be wrong in front of other people. When it happened to me I didn't want to move, therefore I wasn't growing. And I see that in a lot of people. The reason is that we are so afraid to see who we really are, but this is the only way we learn. As children, we know that first we have to first roll around, then crawl and then get up and fall down, get up and fall down again, etc. That's what we all did and we all figured it out eventually. Therefore, a series of failures led to success. But we forget that. Now that we are adults we want everything to be perfect.
If you are employing people, if you are an entrepreneur, you have to give people a little bit of leeway to make mistakes, especially ones that are not costly.  People have to figure it out, especially if you are innovating and trying out new stuff. If you are creative, you have to test your ideas. I think it was Brian Tracy that said "if you make enough money in business to cover your mistakes, you'll survive". Because you are always testing (new market, pricing, products, ideas, etc.) And after a while you have to re-innovate, because what got you here won't get you further. And life is changing. Look at Kodak, for example. If you are running your business like you did 5 or 6 years ago, you will soon be out of business. People have to keep innovating, changing, testing, and failing. One of the best quotes somebody shared with me was "failure is a way towards success". Because failure is just feedback. Whether your idea worked or not, you learned something. Both scenarios are about learning.
So this applies to any category of business people?
Yes. Any category of business people and people in general, regardless of their gender, age or occupation.