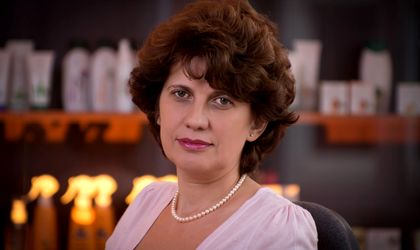 Regardless of the industry you're in, business leaders are faced each day with new challenges due to the current context, but as some might recognize, new opportunities as well. Business Review wanted to know if this is true for the cosmetics industry, and got in touch with Dr. Susana Laszlo, shareholder and general director of Cosmetic Plant, one of the biggest cosmetics producers in Romania.
What is the history of the COSMETIC PLANT brand? When did the brand appear and what was the reaction to it?
For me, COSMETIC PLANT is more than a business. It's the legacy of my mother, Ileana Mester, a pharmacist and researcher who was part of the team which developed the Gerovital Plant products. She was an ambitious woman, highly energetic and with an incredible passion for plants and their intelligence. In the nineties, after retiring, a started the COSMETIC PLANT family business, in which she managed to blend her love for plants and the precision required as a chemist. It was a difficult begining, just after the fall of the Communist regime, she didn't have many resources, nor today's technologies, but after almost 30 years, we are the third most important cosemtics producer in Romania.
We find ourselves in a critical period, bot socially and economically. In what way is the current crisis generated by the COVID-19 pandemic affecting your business?
It may seem ironic, but a crisis, whatever its nature, can be a good moment to progress, to implement the strategies you believe in. At the moment we are not affected, mostly due to 3 reasons: in 30 years of activity we have learned to manage our resources, to be flexible in crucial moments, and not to stray from our path in regards of the research and development projects we conduct.
We postponed two or three campaigns, because the large commercial centers are closed, but we focused on our online channels and our strategic partnerships we have with some pharmacy networks.
What business measures have you taken during this period?
We didn't have to take any special measures which would have deviated us from our way of conducting business. We follow our strategy which we laid out when we started the rebranding and market repositioning processes. In this period, consumption will not stop, but will decrease, because people will buy more responsibly and will inform themselves much better.
Our previous experience with a crisis (2009-2010), show that you mustn't stop; it's important to carry on with your projects. Some of our actions that will follow in the near future will be: social involvement, supporting the medical staff that treats COVID-19 patients, launching the new products on schedule, and taking part in the most important international contest for product quality, World Quality Selections, organized by Monde Selection in Bruxelles.
All this is the fruit of entire months, years, of research and we want to harness the unique nature of our products, some of the released for the first time in Romania.
What are the plans of COSMETIC PLANT for the future?
Like I said, we follow the business strategy we laid out. This means continuing the process of repositioning COSMETIC PLANT on the innovative cosmetic products segment, obtained through scientific research and testing, remodeling the structure of our portfolio and redesigning all of our packaging and labels, increasing our visibility on the market, through strategic partnerships with pharma networks and specialty stores, backed by a innovative trade strategy, and finally, launching new products and collections, starting as soon as this month (editor's note: April 2020).
Also, we are in the process of research and testing of a new line of products for complexion whitening, with which we aim to enter the Asian markets.
How did you chose to communicate in this period?
In moments such as this, communication is extremely important. Now, more than ever, it's vital to be connected to all the players on the market, from suppliers to consumers, and their needs. We are active on the market, we are standing close by our employees, applying a series of measures to protects them: home office for those who don't have an essential activity at the place of business, free transport with our company cars for those who work in warehousing, production, packaging, etc., and providing protection masks and gloves. In regards to our marketing communication, we focus on our online channels, implementing the already laid out plans and complying with the schedule.
Internally, we keep an honest and open communication with our employees, our partners, and of course, our customers.
What is your advice for business leaders for this crisis?
I believe in the entrepreneurial spirit, which is crucial right now, with all its benefits and duties. On the other hand, it's essential not to take any extreme or rash decisions until the current situation becomes more stable.
In times like these, adaptability, flexibility, and involvement are your key allies.
Capitalizing on the available opportunities is welcomed, withour affecting your core bussiness, and I wouldn't recommend trying to control what you can't control. Those who will try to swimm against the currents can't come out stronger out of this crisis.