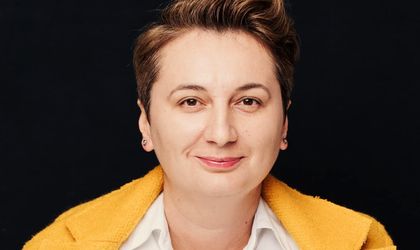 One of the top Romanian executives in advertising, Cristiana Belodan, joined Oxygen as Strategy & Transformation Director. Her responsibilities include integrating all resources under the company's new positioning as a full-service agency, developing and strengthening Oxygen's services, as well as managing the Strategy and Creative departments. BR talked with her about this professional move, her career, trends, challenges & opportunities in the marcomm industry at this moment.
By Romanita Oprea
How did you decide to join Oxygen's team and why?
After nearly two years of working together as Strategic & Business Consultant for Oxygen's brand positioning process, it felt natural to dedicate more of my time and energy to this team. The agency's growth & development plans are highly ambitious, and this is another reason for strengthening the partnership with the new Oxygen.
What are your goals as related to Oxygen from this new position?
My new role in Oxygen involves two major agency areas – on one hand, building up a senior strategic & creative team, which in turn will support the second objective: raising the standards of the agency's products & services.
If you talk about Oxygen's transformation, how do you foresee the agency in five years from now?
A results-oriented agency with a strong creative force that matches brands' objectives with consumers needs in an impactful, memorable way.
You said that in 2021, efficient creativity will play an even greater role than before. Can you develop as to why and how?
Last year left two profound marks on the marketing and communication field: budget cuts for almost all industries (since the pandemic crisis constricted spending to the minimum required to stay on shelf) and hard to predict consumers' behavior shifts (since the lifestyle & habits during the pandemic have little benchmarks to compare against).
Companies will invest only in facts & data proven impact. While getting noticed and remembered as a brand will have to be more than a miraculous result of Media spending's math.
What other trends do you see in the advertising industry in Romania this year?
I hope the Romanian advertising industry will be "hit" by a bucket of social & cultural trends, pumped up by last year's physical constraints. One that I love most pleads for Open Source Creativity and its meaning is as simple as the universal principle of community: the feed has become a place to co-create not just to consume.
So it's up to us, the creative industries, to facilitate people's engagement with more collaborative forms of content creations. Brands should foster creativity instead of acting like gatekeepers.
When did you discover your passion for advertising and what made you decide to enter the industry?
It was a mix of faith, dreams and luck that brought me at the door of a palace just across the street from Cotroceni: the headquarter of Graffiti BBDO in 2006.
I wanted to be a copywriter, but the first job opening was something called Account Executive. Didn't know much about the implications, but I took the interview and enrolled in Client Service. That was by far the steepest start in the Agency life, since being an Acc. Exec. in BBDO, back then, was a tough school for a rooky like me.
After all these years, I can still remember how lucky I felt, exiting that historical building and knowing I have a tiny desk inside, with my ashtray on it (yes, those were the Mad Men glorious times of smoking in the office). While my initial decision was entirely based on gut feelings, I was simply swayed and astonished by advertising, like a deer in headlights.
What were for you the most important professional decisions you took and why?
A steppingstone in my career was moving from a network agency to an independent one, in 2011. All the school of Client Service and the mighty Gods of BBDO didn't prepare me much in dealing with the local way of having deadlines "yesterday". But it was a mandatory step in my evolution. And I enjoyed every single moment of that rollercoaster ride.
The second turning point was related to my decision of leaving the country for broader perspectives, almost 3 years ago. Eventually this search helped me find the path towards Strategic Consultancy. And convinced me it was not yet time to leave the green pastures of Romanian advertising. And now the story goes on with me as a part of Oxygen's team, preparing for the next challenges and for an unforgettable ride.
What were the most challenging moments and why?
Winning a huge account that doubles the agency overnight is always a challenging moment, I lived a few and I can tell you it's a thrilling double-edged sword. Losing a huge account that leaves your agency half empty is again a memorable moment. And agencies that worked for telco leading brands probably know the type of challenges I refer to.
You have more than 15 years of experience in advertising. What are the most significant and important changes / evolutions you have witnessed?
Oh, this question makes me feel like a page of living history. But I'm proud to say I witnessed the birth of some very fine new job roles in the last decade: Community Manager, So Me Strategist, Data Analyst, Performance Manager, Data & AI Application Development Associate Manager…and the list goes on endlessly from now on.
Undoubtedly the most significant changes that encapsulated all of us are related to the mobile revolution and the boom of new digital social streams of interaction. Otherwise, in advertising all is New and Done Before at the same time…
You also worked abroad – how does the ad industry here differ from the one abroad?
I was exposed in the last 3-4 years to multiple internships and project-based collaborations in big agencies from Netherlands and Germany. Getting in close touch to different agency business models led me to a very blunt conclusion related to the advertising culture: talented, hardworking people make all the difference. And thank God they are not geographically distributed in only one corner of the world…
The rest is processes, ethics and education, models we can learn from and theories we can apply.
With increased talk about internalization of advertising roles in companies, how can agencies keep adding value to clients in the new age?
I believe we can replicate anything from the agencies' structure and functions inside a company. Except for creativity. I don't believe it can bloom unless fostered, guided and rooted in that company's DNA. If it's in your business model or in the product development, you need little internalization. But if you want to transplant creative resources like grafts from one trunk to another…well, I don't remember many successful cases of outstanding awarded campaigns that came out from in house departments of multinational companies.
So, to your question, Agencies can keep adding value to Clients by constantly offering outstanding services, powered by top notch professionals in strategic and creative thinking.
By the way, it wouldn't hurt our business to get a little bit more preoccupied with attracting new talents. Though it's hard to bring fresh blood in an industry famous for being a meat grinder…
Sum up in your view, what are the main challenges and opportunities in 2021 as a marketeer?
In my humble opinion, the challenge always contains an opportunity in its DNA. After last year's confusion, coping, activism and division, I see 2021 as a year of rebuilding, hope, progress and, most important, unity.
On these grounds, the biggest opportunity for marketers and their agency partners will be CONTENT RELEVANCE: being the Signal, not the Noise, in a market flooded with ads, branded content, fake news and pandemic daily updates. (Consumers are exposed to anything between 400 and 10,000 advertisements per day. *Deloitte 2021 Marketing Trends). Relevant content connects a brand to what is top of mind for consumers in the moment they receive the content. Those who'll understand their consumers' needs and habits, those who'll keep track of what's trending in the context and will be capable of real-time delivery for relevant customer messaging can end this year as winners. The rest, as survivors, focusing on the great act of simply staying alive.