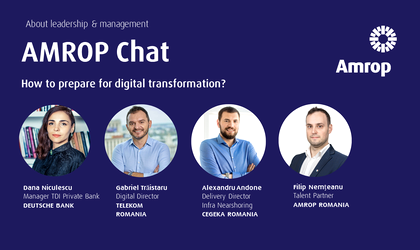 In 2020, the crisis has become a global catalyst for digital innovation. In 2021, we are now wondering what is the next step in digital and how to keep the same pace and level of quality in Romania. Amrop, one of the global and local leaders in executive search & leadership advisory, interviewed 3 Digital Directors from technology companies, from different industries: financial services, telecommunications and IT services, about their 2021 digitization plans. Here is the direction we are heading from their perspective.
How do we stop the blame/intimidation culture to inspire more creativity and testing? In order to transform the organizations they lead, digital leaders must first transform themselves.
"A digital leader must have an informal influence, not a hierarchical one, to be creative, to understand the technical area and the market. Because the people who will implement the digital projects will need a leader who speaks their language. The digital leader must be wise enough to act like an entrepreneur. An experience in a startup could also help", says Dana Niculescu, Manager, TDI Private Bank, Deutsche Bank.
"A digital leader should not lack the following elements: customer focus, an Agile Scrum work methodology, continuous testing without the fear of failure and stopping the blame/intimidation to make space for more creativity. In this way, the digital leader can give an identity to ideas and systems", says Gabriel Trăistaru, Digital Director, Telekom Romania.
"A digital leader must motivate, inspire and sell the idea of ​​digitization. Digitization involves change and speed. The challenge is not to leave the team members behind in the rush to keep up with the quick market changes. We need to find a way for everyone to contribute having always the focus as the ultimate goal. If you have an agile structure, which you constantly adapt and not get lost in details, you will develop your resilience. The way Cegeka Romania works is based on the idea of ​​resilience" adds Alexandru Andone, Delivery Director Infra Nearshoring, Cegeka Romania.
Do we develop the team's skills internally or do we import them?
"We have to ask ourselves: how flexible is each team member? How quickly will adapt to a new culture? I like people who identify problems, who won't ignore them, more precisely people who come or gather solutions from those around them and approach them meritocratically, choosing the most appropriate one. Technical skills can be learned, but those innate "problem solvers", engineers and specialists who adapt easily, who do not have a predominant ego and who want to learn all the time, are extremely valuable. We have them in the organization and we are looking to hire them continuously, because they will become the future agents of change" explains Dana Niculescu.
"I would rather innovate based on our strengths and import those niche, specialized skills when needed, than developing them from scratch. The challenge is that everything changes very quickly and by the time you manage to grow that product, the market and the reality are already completely different. Therefore, if constantly adapting, the work's result will be at the same high market level" mentions Alexandru Andone.
"We import skills only when absolutely necessary, otherwise we consolidate what we have. The lack of professional experience worked very well so far for us. The more experience they had, the more their ego grew in direct proportion to their experience and the more inflexibility there was. Instead, we managed to find inexperienced young people who are now some of the best programmers of the team that you can rely on and who can train other people. We encourage them to follow certain certifications, knowing that their value on the labor market will also increase, which is a risk we gladly take. In this way, we also contribute to the talent market growth" says Gabriel Trăistaru.
How does the digitization team manage the relationship with the rest of the departments in the organization?
"Within classical structures, there is a separation between business and technology, which makes innovation a difficult mission. In a digital organization, the business works in partnership with technology, respectively with programmers, who must also talk to customers, to understand their needs. In agile work environments, there is the role of Product Owner who, among other things, mediates the tense situations that can occur in this relationship", argues Dana Niculescu.
"The digitization team becomes a partner for the other departments in a company. It is also a business department because it has in its center of concern also the end client. But it is also a consulting team for technical problems, able to find digital solutions, at the best possible costs and at the same time to evaluate the business impact of these solutions. Another dimension of digital teams is the ability to participate in education programs through which a company increases the digital capabilities of all employees from all departments", specifies Gabriel Trăistaru.
"It is important to have a partnership between us and our clients to whom we offer consulting. They can focus on their business and leave technology to us. We take part in their story, in which they decide where to turn their business. In essence, all companies will become technology companies", says Alexandru Andone.
How can we setup an innovation framework for organizational benefits?
"Innovation starts with the consumer's needs. There are innovative digital companies that bring value by being visionary, but there are also companies that are much slower and will adopt the innovations made by others. We must be pragmatic, realistic and adapted to the world we live in. Because there are also innovative companies that launched solutions for the future, way ahead of their time, but failed because consumers were not prepared for those products", says Alexandru Andone.
"In a corporation, innovation does not take into account hierarchy. It's hard to find that digital leader who leads innovation and has business pragmatism, fine vocabulary and is also the motivator of the team of engineers.This innovation team must have completely different objectives from the business ones. Innovation must also be funded. The team should not worry about tomorrow and should focus only on what they have to solve, based on product metrics similar to Google, Amazon, Facebook or Apple", specifies Dana Niculescu.
"Innovation always starts from constraints, moments that force you. Innovation ends when the business need is met. Innovation grows from an area of ​​shortcomings, from an arid land. Companies are forced to transform in order to exist, literally. A company is ready for digitalization when the average age of employees is up to 35 years old, made up of young people who change jobs often and where they invest a lot in education for an environment exposed to digitalization", Gabriel Trăistaru demonstrates.
What lessons have we learned from 2020?
"I learned that it is possible – very few of us had a backup plan. Those who are not flexible and who don't adapt, will be left behind", recalls Dana Niculescu.
"Companies that were open to digitalization and innovation flourished and those who suffered were the ones that were actually related to locations and physical presence, which couldn't be digitized yet, such as those from the tourism field" observes Alexandru Andone.
"From a buzzword, digitization has become a reality and it has happily caught us prepared in advance. Companies that only talked about digitization and did not open a center of people capable of bringing them digitization and only thought it is all about their Facebook page or their new site, were left behind. The market was divided into two segments: those who had already made efforts in this process and those who were taken by surprise and did not invest earlier. There will probably be, in the future, changes through regulations or cost pressures that can redirect digitalization" warns Gabriel Trăistaru.
What challenges does the year 2021 bring?
"Keeping the culture alive in this new context of working from home. People need to be autonomous and it is important to communicate with each other in order to stay together as a team. It is important to continue to develop our soft and hard skills" Dana Niculescu explains.
"Resisting the temptation to go back to the old way of working. It was a game where everyone knew the rules and won by the best player. Now the game has changed completely and the challenge is to figure out what are the new ways to succeed. Another challenge is to look for what is new, innovation and opportunity in this change, developing a new culture in the direction of digitalization and technology of this future 2.0." Alexandru Andone explains.
"The challenge is to keep the teams intact. The role of the digital leader is to take care of people, then people to take care of the organization in order for the organization to become more and more digitalized" reveals Gabriel Trăistaru.
"Agility is an innate behavior and developed on a daily basis in organizations. The main challenge for leaders will remain to develop the mix of skills in this new ecosystem and to create the right space for performance in this new way of working. The year 2020 proved that the organizations in Romania are on the right track in the "digitalization race", and the pandemic was only the accelerator of certain processes that were already started. And the basis of these success stories is the fact that there are enough professionals and enough skills in the market, so that companies can start their transformation process" concludes Filip Nemțeanu, Talent Partner of Amrop Romania.