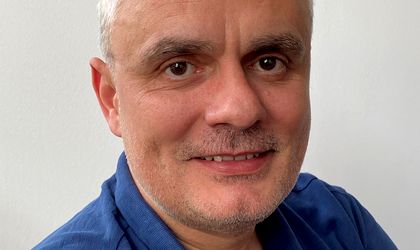 He is one of the Romanian PR professionals with the greatest experience in the industry. Alexandru Paius started his career as journalist (editor-in-chief) in Mediafax's economic department and then he created Mobil Rom's (now Orange) communication department, holding the position of PR Leader in the company. For more than 21 years he has been running as senior partner IMAGE PR, one of the biggest PR agencies in Romania. 
By Romanita Oprea
How was 2019 for the agency in terms of turnover/revenues?  
2019 was one of our best years in terms of profitability and financial performance. We ended the year with a very good net profit ratio. I have to say that, unlike other agencies, we don't display an impressive turnover. I have learned over the years to prioritize income, what we are left with at the end of the day, instead of turnover.
We strive to maintain our services in the area of communication and public relations consultancy, as much as the Romanian market allows us. We are focused on strategic and advisory competences. Which implies we only seldom implement projects or campaigns that require a high number of supplier and resources which, in turn, lead to a high turnover.
What about the pitches entered?
We are still very selective when entering pitches and our priority is to develop our current portfolio. This is the reason we usually enter very few pitches. Even so, last year we added two new clients to the agency's portfolio, but only one after a selection process. Nevertheless, I also have a regret, a client that I would have wanted in our portfolio, but which we apparently failed to convince.
How would you characterize the local PR industry in 2019 in terms of budgets, campaigns, creativity etc.?
I still feel there is high pressure on budgets due to the great competition and the abundance of communication agencies and professionals operating in the market. Customers have a wide range to choose from and they can take advantage, in the very good sense of the word, even if there are big differences in terms of quality between the services provided. I believe that our work, that of communication professionals, is still undervalued and often regarded only as a service provision instead of emphasizing its strategic dimension. However, the market appears to be maturing with each passing year and I hope things will get better.
When it comes to creativity, I feel that the word stopped being plastered on every wall and being attributed to everything. I think that is because we have all started to understand what creativity is really all about in our field, how far it can go and what are its limitations in terms of meeting one's business objectives.
As far as we are concerned, we remain true to our trademark concept of pragmatic creativity. As long as the objectives of any communication campaign are measurable and are often transposed into business objectives, and if you do not develop communication projects just to win prizes, pragmatism in creative executions is essential.
What were the most important changes & novelties in the agency in 2019?
Last year we had a first in the agency. The first colleague to retire after almost 20 years with us. I do not know if there are other agencies in the market that have experienced such an event, but I am sure that even if they are, there are not many given the young age of our industry.
Another change, and novelty element at the same time, was the increased proportion of remote work. At IMAGE PR, we were visionaries from this we had a flexible program with "work from home" days long before this started to be a hot topic in public debates. Nevertheless, we have come to fully understand and capitalize on the benefits of such a way of working. And might I add that we have implemented this in an excellent manner, which garnered us increased efficiency.
What trends did you notice on the local market last year and how do you intend to follow/represent them at your agency? What do you foresee for 2020 from this point of view?  
I spoke at this year's PR Forum about Purpose Led Brand concept, as a new trend for brands to associate with causes with which their target identifies. New consumers, the younger generations, are more attentive to social and even political issues. They use the technology they are so familiar with to determine social movements, to change the world. As such, communicators will have to synchronize their conversations with the current major themes, and the brands will be socially involved and have missions oriented towards the interests of consumers.
Influencer marketing is no longer a tactical emergence, it is an integral part of the brand communication mix. In this respect, I believe even more changes will occur. The importance of micro-influencers is on the rise seeing how the established and "larger than life" influencers are caught up in many projects have become increasingly difficult to access or they are involved in too many projects at the same time. Furthermore, influencers will need to develop longer-term partnerships with the brands they like, to be more authentic in the recommendations they make, to become true brand ambassadors. The lack of confidence in conventional media, especially among new generations and the scarcity of media outlets, will further increase the importance and interest for independent platforms.
What do you hope for 2020 for the PR Romanian industry? What about for Image PR?
First, I would like it if 2020 was as full of projects and challenges as these first two months.
Then, I would like it if we had had the opportunity to implement all the projects we have planned and not to be overthrown by various foreseeable crises. This is valid for the industry in general, not only for us since a potential financial crisis, or any other crisis for that matter, would affect our clients and that would in turn impact us.
Moreover, I would like to find more people that share our values so we can expand our team and I would like to be able to convey even more clearly the passion for the job to the students and young people we will recruit.
What are the changes you intend to bring in the agency in 2020 and why?
My intention is not necessarily to change anything, but rather to continue the process of the last years which is to maximize efficiency in all the projects that we carry out. We will continue to be an agency that does things with passion, thoroughly and, puts quality above all else. That has always been our mantra but the last few years have taught us how to maximize the ratio between efficiency and effort.
We plan to continue expanding our network of partners with whom we work on various projects, from professionals with diverse expertise, to freelancers or independent project managers.
Regarding recruitment, we are very careful in our selection and we are also considering people with other professional backgrounds than people in agencies or client communication departments.
Where do you see the Romanian PR industry compared to the European PR industry?
The Romanian PR industry is comparable to the European one and we have seen this for some years now. This is visible in the special executions of some communication campaigns and from the awards obtained at various international competitions. I have always said that the difference between us and those abroad is only determined by volumes, be they market, business, agencies, specialists' volumes. The same multinational client has bigger budgets in a developed European country for the same type of services. Why? Because the market volume there is much larger and so is the impact of the PR campaign. As such, their services are better appreciated and valued, the salaries of communication professionals are higher, and the agencies are more and more powerful. All this leads to the increase in interest from new entries to the industry and to market professionalization. Romania's economy is growing, and things are evolving year on year. Of course, at a different pace.
Is the migration of seniors influencing the local industry?
Definitely, the oscillating turnover of seniors from one company to another or to the client instead does not help the development of the industry at all, especially not the dynamics in recent years.
For us, to witness an organic growth it would be ideal for the next generations to have someone to mentor them and teach them the business. However, the new entries are fewer and fewer, they don't have the patience to learn and be thorough and seniors are becoming a really scarce and sought-after resource. We have a longstanding partnership with FJSC and every year I have a wide pool to talent search, either through workshops held at the university or agency internships. There are many good children, talented and eager to learn, but even if they end up in an agency or at a client, they do not seem to stay in one place for long. They change their job, their priorities, they look for different opportunities very often.
Where do you believe to be our industry's main problems and how can they be changed?
The increasing difficulty of finding professionals limits the development of the team and hinders the agency's workflow. The market is developing, the need for brand communication is increasing, and the lack of specialized workforce has and will have an impact on the quality of communication projects. The migration from one job to another and the speed with which this happens have a major impact on the stability of the industry. Last, but not least, this migration produces unsustainable inflation in the incomes of communication professionals, as long as the clients' budgets do not increase, many times quite the contrary.
How do you see the lines blending between PR, social media and advertising today?
For some time now, there has been no demarcation line between them. And full-service agencies have reemerged. There is no surprise though, history tends to repeat itself.
Debates and alternations between full-service and specialized are not new, maybe the only new thing now is social media, the so-called digital, which joined the established disciplines, advertising, media, PR, etc. Still, the dilemma persists. Can everyone really do everything, or when you start doing something new you become better than other who already have a few years under their belt? In PR, we are somehow accustomed to these challenges, everyone claims to know PR, just like with football. It's as if one could get their PR by the dozen, as it is the expression in vogue "un PR, doua PR-uri".
How of an important role are still having the consultancy and the strategy?
There have always been clients for whom only the implementation and / or the cost of implementation is important, but also clients for whom the strategy and consulting are relevant. So even today it is about how you position yourself, what you want to promote and the respect you have for your work and, last but not least, doing what you do best.