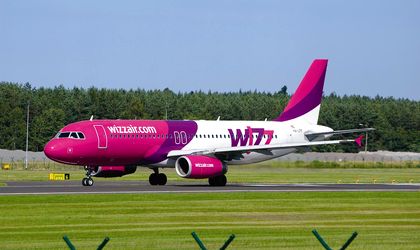 Low-cost operator Wizz Air has announced that from March 25 it will officially run all its flights from the Henri Coanda International Airport (Otopeni) after receiving formal notification from the authorities that it will no longer be able to fly from its present hub at Aureal Vlaicu International Airport (Baneasa).
Following the move, Wizz Air will increase fares, as airport taxes at Otopeni are 25 percent higher, said Michael Powell, the airline's CFO. The higher taxes will generate additional costs of EUR 12 million per year, he added.
While the price of tickets is determined by demand, if the airline were to recover the entire 25 percent hike in taxes it would have to increase prices by 4 percent or roughly EUR 6 per ticket. Passenger who have tickets booked from Baneasa from March 25 onwards will fly from Otopeni for no extra charge.
Wizz Air has long opposed and campaigned against the shifting of low-cost operators from Baneasa to Otopeni. While a few months ago airline representatives said that the transfer would bring not only fare increases but also a reduction in flight capacity, Powell announced that Wizz Air would in fact increase the number of A320 Airbus planes it operates from Otopeni from four to six by the beginning of the summer season, add new routes and increase the frequency of flights to 123 per week to 22 destinations.
Hungarian carrier Wizz Air has a 66.7 percent market share in Romania, according to company data. Last year it had 2.7 million passengers in Romania, dethroning national airline Tarom which failed to reach its 2.4 million passenger target, flying only 2.19 million.
This year Wizz Air estimates it will increase the number of local passengers to 3 million.
Simona Bazavan