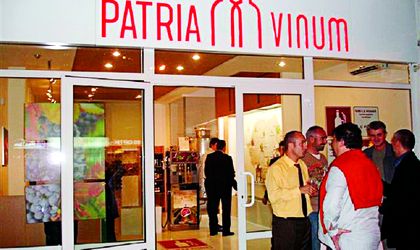 Former IT entrepreneur Tiberiu Duma, who sold his share package in NetPoint telecom company in 2007 and then went on to invest in a wine retail business, is planning to have a network of ten Patria Vinum wine shops in the capital by the end of next year.
"We would like to reach ten stores in Bucharest by the end of 2010 and then start to franchise the concept throughout the country. One of the ideas we could pitch to our collaborators is supporting vineyard tourism, as most of our suppliers plan to open accommodation and wine-tasting units near their wine cellars […],"Duma, one of the owners of the Patria Vinum business, told Business Review.
The firm currently runs two stores in Bucharest in which it has invested EUR 50,000, but with the start-up costs, the investment reached EUR 75,000. However, future stores should require only EUR 15,000 each, which would bring the total planned investment in the chain's next stores to around EUR 120,000.
Patria Vinum sells various brands of wine in bulk. It came up with this concept after seeing the wines on sale in supermarkets or traditional stores, which despite being varied, were still of poor quality, said Duma. "The loyal consumer of a certain brand of wine knows there is a difference between a bottled wine and the natural wine they would find somewhere in the countryside. This is why we have chosen small and medium producers, less known to the Bucharest market, but who produce natural, quality wines," said the businessman.
So far, Patria Vinum's sales have been below expectations, mainly because of the drop in consumers' purchasing power and a decrease in spending intentions. During the holidays, the average volume of a purchase is from 4 to 5 liters of wine, while for the rest of the year, the figure falls to below 2 liters per transaction.
Corina Saceanu