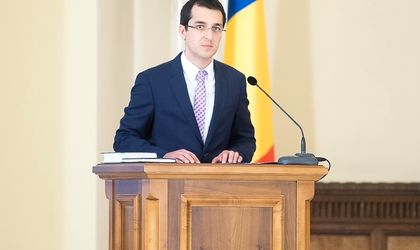 Romania's new minister of health is Vlad Voiculescu, who had previously worked as the head of the cabinet of finance minister Anca Dragu.
President Klaus Iohannis has vetted the proposal for Voiculescu's appointment, which came from PM Dacian Ciolos.
Voiculescu has replaced Patriciu Achimas-Cadariu, who had resigned about two weeks earlier. At that time, the local media had reported that fake disinfectants had been used for years in almost all the public hospitals in Romania.
"I have hesitated in this period (…) to (choose – e.n.) between a person from the system, a doctor, who knows the system and has a reform vision, or a person outside the system, which can have a credible vision from outside the system that can have reform ideas for progress," said Ciolos.
He added that Voiculescu has a lot of experience in financial management, but that he also knows the issues of the health system due to his activity in the non-governmental field.
Voiculescu has been one of the volunteers that had set up an informal network that would supply medicines from abroad to Romanian patients that couldn't find the prescribed drugs for cancer.
His story turned into a movie called The Network, which was broadcasted by HBO.
Ovidiu Posirca