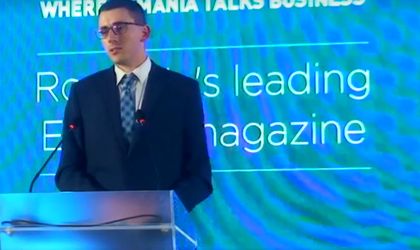 Business Review magazine took the stage on the second edition of ICAP's True Leaders ceremony in Bucharest to announce the winner in the Foreign Investment Category. The award went to retailer Kaufland Romania.
Ovidiu Posirca, senior journalist at Business Review, handed the award and also made a presentation about the fourth edition of the Foreign Investors Summit, the event organized by the magazine between October 31 and November 2 in the Romanian capital
High-level executives, entrepreneurs, officials and investors from the strongest foreign investment communities will gather for 3 days in Bucharest to talk about Romania's economic outlook and the ways in which the country can attract valuable investments in the next years, while supporting the development of the private sector.
During the Gala, ICAP Romania has awarded 40 companies out of the 143 that were selected as true leaders.
Alexandra Predeanu, country manager of ICAP Romania, said: "These are companies with a significant role for the Romanian economy, because they have a combined profit of RON 12 billion and a turnover of RON 120 million, employing more than 170,000 people.
Our objective is to award companies that are very healthy, not just from a financial perspective, but also commercial. They are top employers and trustworthy firms for partners, customers and suppliers. The first selection criteria was the positioning among the first 500 most profitable companies in Romania based on EBITDA at the end of December 2016.
Other criteria were applied simultaneously. These companies are leaders in the own industries based on the CAEN (the codification of the sector), have recorded an increase in the number of employees from 2015 to 2016, which also shows an organic growth and have an ICAP credit score from A1 to B2."
Nikitas Konstantellos, CEO, ICAP Group, added: "As a leading provider of business information services, ICAP Group manages data bases in Romania, Greece, Bulgaria, Bosnia and Herzegovina, Cyprus and Serbia, with data for more than 3.5 million companies. Moreover, through our exclusive partnership with Dun & Bradstreet, we provide access to information for 250 million companies in more than 200 countries."