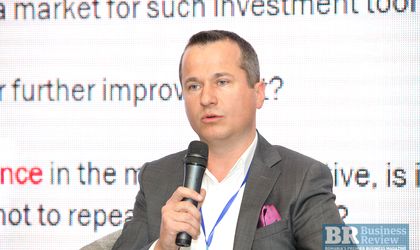 Real estate developer Vastint might put up for rent one of the residential buildings that will be part of the Timpuri Noi Square mixed-use project in Bucharest, according to Antoniu Panait, the managing director of the company.
Panait said that he got questions from managers of IT companies that wanted to know when Vastint will kick off its residential projects as tech firms want to rent homes for their employees.
"Maybe it's an idea to make this at Timpuri Noi Square and have one-two buildings for rent," explained Panait int he second day of the Foreign Investors Summit, the 3-day exclusive event organized by Business Review. He added that the residential component of this project will cover 50,000 sqm. At Timpuri Noi, the company aims to have another 100,000 sqm of office&retail space.
Vastint is also working on the Business Garden office project in the Romanian capital and the developer has acquired 48 hectares of land in the northern part of the city for residential investments.
Panait suggested that for the time being the company will focus on its development in Bucharest, adding there is potential also for big cities across the country in the office segment. "It remains to be seen when we will go there," said Panait.