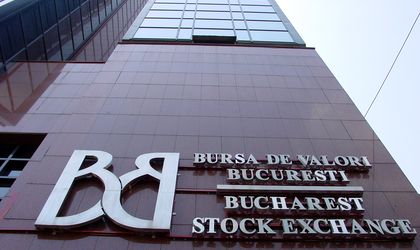 The value of shares' transactions on the Bucharest Stock Exchange went down last week by 56.28 percent last week, compared with the previous week, amounting to RON 494.71 million, according to an analysis of Puls Capital.
The most important deals were made on Romgaz shares (SNG) valued at RON 59.23 million, Fondul Proprietatea (FP) valued at RON 35.15 million, SIF Banat-Crisana valued at RON 27.73 million, Banca Transilvania valued at RON 26.45 million and Transgaz valued at RON 21.33 million.
The total value of the transactions developed by BVB this week amounted to RON 500.37 million. The transactions with structural products amounted to RON 3.71 million, with bonds worth RON 0.24 million and unit funds of RON 0.05 million. On the deal market were made exchanges valued at RON 44.74 million.
According to the Puls Capital analysis, the stock indices registered positive evolutions, between 0.02 percent on BET-FO index, valued at 31,925.86 points and 2.04 percent on BET-NG index, the closing value being 698.02.
In the analyzed week, 36 shares had positive evolutions, 12 had stable evolutions and 28 had negative evolutions.
The highest increases were registered in Prodplast shares, Natura Holdings (SCPS) and Petrolexportimport (PEI) of 15.50 percent, 14.80 percent and 10.13 percent.
The highest decrease was registered on Turbomecanica shares (TBM), of 10.65 percent, followed by Armatura shares (ARM) and Rompetrol Rafinare (RRC), of 9.58 percent, respectively 6.25 percent.
"All the local indices had closed the week with positive results, except for BET-FI index, which were steady, with an insignificant variation of 0.02 percent. The financial index was affected mainly by the SIF Oltenia shares, that dropped by 2.84 percent in the analyzed period. FP shares had an increase by 1.49 percent, the best performance from BET-FI," says the source.