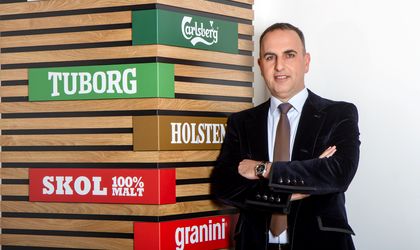 United Romanian Breweries Bereprod (URBB) has posted a record production figure exceeding 2 million hectolitres for the period January-November 2017, representing a 10 percent increase year-on-year.
During the period surveyed, the consolidated turnover of the URBB group increased by 12 percent year-on-year to RON 650 million (gross).
The figure recorded by URBB comes against the background the overall growth of the national beer market, estimated at 2-3 percent, according to the Asociatia Berarii Romaniei.
"Our achievement this year will serve as a point of reference for the future, given that in 2017, we made considerable investments that resulted in an excellent market response, reflected positively in the company's financial performance. This strong growth, over three times bigger than the market pace, was stimulated by several factors, most important of which being the improvement of our products, exports and, most of all, investments made this year," Shachar Shaine, URBB president said.
One of the pillars of investment for URBB is represented by the increase of its annual production capacity from 2.1 million hectolitres in 2016 to 2.4 million currently. The company's investment budget for 2017 stood at over EUR 10 million. The company invested EUR 2 million, representing approximately 20 percent of the total budget in implementing a new technology that protects the top of the beer cans by them with a protective aluminium foil.