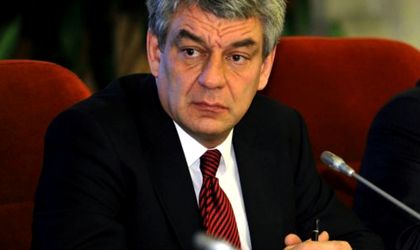 Mihai Tudose, the interim Minister of Economy was validated by the board of the Social Democratic Party (PSD) for the position of Romanian Prime Minister. The announcement was made by PSD vice chair Lia Olguta Vasilescu.
Late Monday, president Klaus Iohannis designated Tudose as PM, in a bid to end the ongoing political crisis. Iohannis said the current crisis harmed the economy and Romania's image abroad. The head of state suggested that Tudose's government could be voted in Parliament this week.
"A proposal was already agreed, it was voted by all members of the CExN, with four abstentions, the proposal for PM is Mr. Mihai Tudose," Olguta Vasilescu said. The interim labour minister also said that the PSD board came up with six names that were put up for debate.
"Five of us refused this proposal, in my case I believe there wasn't any surprise, because I made it public three days ago that I will not accept this proposal," Vasilescu said. 
PSD head Liviu Dragnea said after the party meeting that he was confident Tudose fulfilled the criteria put up by Romanian president Klaus Iohannis, despite allegations that he committed plagiarism in his PhD thesis.
"Others were accused of plagiarism as well. Mihai Tudose chose not to carry on with the procedure to end up in court. Mihai Tudose did not get that PhD so it can bring him a salary of bigger revenues. Given that there was that discussion he decided to make a request as per the currebt legislation to withdraw his PhD and that is all," Dragnea said.
Tudose gave up on his PhD a few months before the commission appointed to analyze it could start the investigation. He has been a MP since 2000 and has since co-authored 16 legal proposals. 
MPs voted on Wednesday a motion of no confidence against the government led by Sorin Grindeanu, after the latter refused to step down after being repeatedly asked to do so by PSD head Liviu Dragnea.