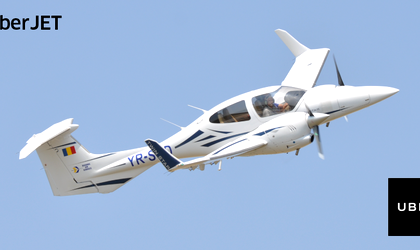 Uber introduces UberJET, a flight service between Bucharest and Tuzla starting June 18, allowing anyone to fly to the Black Sea coast in one hour for a fixed fee of RON 500. The service, available through the Uber app, is provided in collaboration with Regional Air Services.
Outbound flights depart from Bucharest's Baneasa Airport, 8.5 kilometers from the city center, and arrive on Tuzla Airport, some 20 kilometers from the city of Constanta. According to Uber, the service uses latest generation Diamond DA 42 aircraft provided by Regional Air Services. Transport to Bucharest Baneasa, and transfer from Tuzla Airport to Mamaia, one of the most popular resorts at the Black Sea, will be provided by the operator and is included in the RON 500 fee.
Users can start using the service on June 18, between 9-10 am, using the Uber app, by selecting the UberJET option. Upon placing an order, an Uber driver will give the user a ride to Baneasa Airport. UberJET planes are scheduled to depart from the airport between 10.30 am and 12 pm, with flights to Tuzla taking approximately one hour. There is a 2 kg weight limit on luggage that can be carried on board.
"Our mission is to make urban mobility as available as running water. And along the way, to offer our users a little magic. With UberJET one can arrive at the seaside in just one hour, but, more than that, one can press a button and order a memorable experience up in the air," Nicoleta Schroeder, General Manager of Uber Romania stated.
Established in 1998, Regional Air Services is one of the first private flight operators in Romania. The company owns the Tuzla Airport, which ranked fourth among Romanian airports according to number of landings and departures and tenth out of 18 taken by number of passengers.
Georgeta Gheorghe