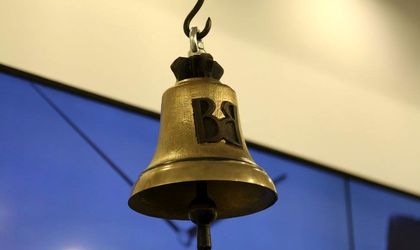 Investors from the Bucharest Stock Exchange (BVB) traded almost EUR 1 billion in the first four months of 2018, up 32 percent compared to the same period of last year.
The stock segment was the most popular with trades worth EUR 943 million.
In April, the trading value grew by 73 percent compared to the previous month to EUR 195 million. The average trading value stood at EUR 11 million.
The main stock market index, BET, which includes the 13 most traded companies excluding SIFs, recorded two consecutive sessions in April where reached 9,000 points. The first time when BET index closed a trading session above this level was on June 15, 2007, while the maximum was recorded on July 24, 2007, when the main market index in Bucharest reached the level of 10,813 points, said the BVB in a statement.
The BET index closed April at 8,713 points, which corresponds to an advance of 12.3 percent for the first four months, the highest rate of growth among the main indexes in the European Union stocks exchange.
The stock market capitalization of Romanian companies exceeded EUR 21.5 billion at the end of April 2018, while the capitalization of all listed companies on the Main Market of BVB exceeded EUR 39 billion.