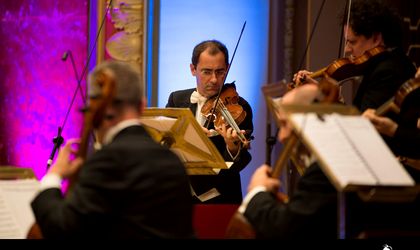 Each September brings the magic of national composer George Enescu to Bucharest, this time with the festival itself. The spirit of George Enescu is celebrated through his works and the younger generations of performers he inspired, enlivening Bucharest with the beauty of his magnificent music.
Due to some unfortunate cyber-attack, the festival's website isn't available, so here's the program for September 5:
Bass-baritone Sir Bryn Terfel and pianist Malcom Marineau from 17.00 at the Romanian Athenaeum.
Program:
Idris Lewis – Can yr Arad Goch
Owen Williams – Sul y Blodau
Meirion Williams – Y Cymro
Ralph Vaughan Williams – A selection of songs from "The Songs of Travel"
Traditional – A selection of songs from "The Celtic Isles" (Passing By; Loch Lomond; Suo Gân)
Bryan Davies – A Medley of Welsh Folksongs
Robert Schumann – Belsatzar Op. 57
Mein Wagen rollet langsam
Franz Schubert – Liebesbtoschaft D.957
Das Fischermädchen D.957 No. 10
Litanei auf das Fest Aller Seelen D.343
Auf dem wasser zu singen Op.72
Die Taubenpost D.965a
John Charles Thomas – A tribute (1891-1960) (Trees; Home on the Range; Lord's Prayer; The
Green Eyed Dragon)
RUSSIAN NATIONAL ORCHESTRA under the wand of Horia Andreescu from 20.00 at Sala Palatului.
Program:
Ginastera – "Estancia" Suite. Four dances op. 8a (1941)
Enescu – "Aria and Scherzino" for violin and orchestra (1908-1909)
Aria and Scherzino were printed for the first time in 2005, at the initiative of Serban Lupu, a Romanian violinist living in the United States of America. The six notebooks edited with this occasion contain works from the composer's youth, the manuscripts of which can be found in the archives of the "George Enescu" Museum in Bucharest.
Sir James MacMillan – Concerto for violin and orchestra (2009) (first Romanian audition)
Tchaikovsky – Symphony no. 5 in e minor op. 64 (1888)