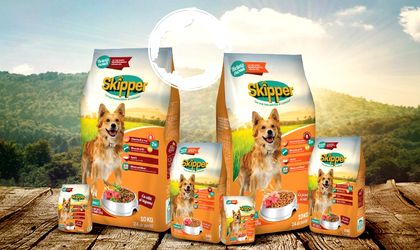 Nordic Petfood Production, the local leader in petfood production, whose portfolio includes Skipper, Cookie and the Kirby Cat brands, was purchased by Belgium's United Petfood, according to the company's website.
Prior to the move, the Romanian producer acted as a provider for the Gent-based group.
Nordic Petfood, which entered the market in 2005, employs around 60 staff and has a factory in Buftea, Ilfov. Last year, Nordic Petfood Distribution posted a turnover of RON 46.9 million and a net profit of RON 1 million.
The factory has a production capacity of 70,000 tons yearly. Nordic Food Production, part of  Nordic Food Distribution, posted a RON 73 million turnover and a net profit of RON 9.7 million.
The dry food produced by the Romanian petfood company uses ingredients sourced in Romania. Namely 100 percent of oils and fats, 80 percent of poultry and pork protein, 90 percent of cereals are locally sourced.
The company's production space covers an area of 2,350 square meters, split in 3 halls. A warehouse of 1,550 square meters allows the company to store up to 1,200 pallets of finished product.
At the Buftea factory, the production line is completely automatized and the petfood is obtained through extrusion– a process that offers high product quality and safety. In order to equip the factory with the production line, the company attracted European funds. The factory's initial capacity was doubled by means of two upgrading campaigns.
Belgian group United Petfood, a family business, entered the market in 1994. It operates eight factories in Belgium, France, the Netherlands, Spain and Poland and sells in over 40 countries across Europe, as well as in China, Japan, and the US.