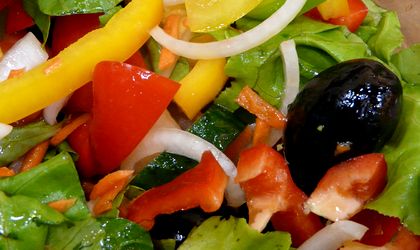 Inhabitants of Pantelimon, a town near Bucharest want to beat the world record for the largest vegetarian salad. For this event, over 1,500 volunteers will be chefs for what they hope it will be a Guinness Book vegetarian salad. The preparation for the salad will start on September 23. For breaking the world record, they will use 20 tons of vegetables and place them in a bowl 18 meters long, 3 meters wide and 90 centimeters tall.
The event will take place at the Exporom showroom, close to the DN3 road and it will mark the opening of the new showroom.
Six tons of tomatoes, four tons of lettuce, four tons of cucumbers, two tons of peppers, two tons of onions, two tons of carrots, 400 kilograms of olives, 800 liters of olive oil and 400 kilograms of salt will be the ingredients of the attempted biggest vegetarian salad in the world.
After the world certification of the salad, the 20,000 portions of salad will be given to charity: the salad will be send to shelters for the elderly and social canteens. The organizers are still receiving volunteers for the event to help prepare the salad. More information about how to be part of the chefs team can be found on the Exporom showroom website, information available in Romanian only.
Oana Vasiliu