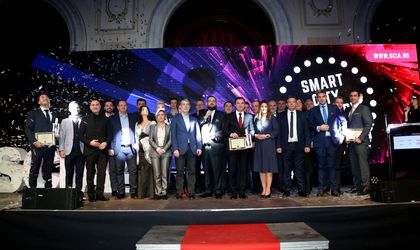 On December 11, the Romanian Smart City Association organized the 4th edition of the Smart City Industry Awards Gala, the most important event of the Romanian Smart City Industry, already known as a yearly tradition. The gala took place at the Palace of Parliament, where over 400 of the most important decision-makers in the industry participated. 101 projects were registered in the competition, three times the number of projects registered in 2018.
The most important program for the development of the Romanian smart communities was launched during the event – the 2030 Romania Charter, an important initiative through which the leaders present at the event assumed common values ​​proposed for the development of the Romanian communities, for the next 10 years:
"It is perhaps our most important initiative as an association at the local administrations level. It involves honesty, to assume this Charter, to assume this declaration. 2030 Romania will be digital!" stated Eduard Dumitrașcu, president of the Romanian Smart City Association.
The Smart City Industry Awards competition had two components. The awards for the Smart City categories were given based on the jury's score for the projects that entered the competition, and the special prizes were awarded to leaders, institutions, and companies by ARSC experts, based on their whole 2019 activity. The jury consisted of experts and practitioners in the juried fields. This year, the president of the jury was the big winner of 2018, the Mayor of Cluj Napoca, Mr. Emil Boc. Projects from communities of all sizes were registered in the competition, from localities and villages to big municipalities. All the projects registered in the competition will be available on the competition's website, www.scia.ro.
In the opening of the event, Eduard Dumitrașcu, the president of the Romanian Smart City Association, expressed his confidence in Romania, in the Romanians and in the development capacity of the communities at a national level:
"My dream is that Romania will become a regional hub of smart city projects and initiatives in SEE Europe. We have everything we need to put Romania on Europe's Smart City map: from infrastructure to funds, projects and especially people. If we try to define 2019 Romania from a creative-intelligent communities development point of view, civic involvement would surely be the highlight phrase of the year!"
The president of the 4th edition Smart City Industry Awards' jury, Mr. Emil Boc, the Mayor of Cluj-Napoca, transmitted the following message:
"Technology is a tool by which we can improve the quality of people's lives, but we must make sure that this will actually happen in Romania. It is clear that we boarded on a train with no return. The research, development and innovation fields will advance at a quick pace and we will see more and more technology that will influence our daily lives. It is a pity that Romania does not take profit of the advantage offered by technology."
The Mayor of Cluj-Napoca, a supporter of the Smart City concept and a leader open to innovative ideas and technologies, expressed his hopes and expectations for the future of Romania:
"Perhaps we will never be the best in the automotive industry or in other fields, but, in when it comes to innovation, to the Smart City component and the creativity involved in this field, we can surely stand at the decision-makers' table and, given that the future looks digital, that Europe has become increasingly digital, that the single market will become more and more digitalized, that we will live in a Europe that will increasingly connect to the Internet of Things through digital devices, through the fact that 5G technology will revolutionize the relationship between smart devices, not just the relationship between people, all these things are capable of placing Romania in a future winner category. Last but not least, these things will help keep our talents at home and bring back those who have left. Because, in the end, this is our most important project. To keep our talents home and to bring back those who left. By far, human resource is the most important resource on the planet!"
Daniel Băluță, Mayor of Bucharest's District 4 won the most prestigious distinction for the local administration leaders, Mayor of the Year:
"You will see that this is just the beginning, you were talking about elements that have already been implemented and delivered to the people. The number one goal, which we all still have and that is the reason why this initiative and this gala are laudable, the goal is to address all the needs of the communities and our people. I am extremely happy to tell you that we have already started the construction of a hospital in Sector 4, for almost a month now. I am happy to tell you that by the end of next year's spring, the procedures for a subway line will be completed. We are the first district city hall that builds a subway, so we are not discussing a project, we are discussing a reality, and many other normal things, for the community I represent. The final goal is to make the District 4 City Hall the Capital of the Capital, if possible, and I need to mention that we started from a pretty low point. We are all working together to make it number one."
Mihai Chirica, mayor of Iași, received the event's big prize, Best Smart City Project of the Year:
"I am sure we all deserve this award, all of us who understood that Romania must change to become a normal country, connected to Europe and the world. We have to follow this smart path. Of course, as mayors we have even more tasks and responsibilities, we need to connect very well to the needs of those we represent. Between technology and people, we must always choose people, they are the ones who need technology. We must perhaps reform the concept – it must be both smart and wise, we must implement technology with the heart so that whatever we do brings us closer and it allows us to identify with who we are. We are Romanians, we are a beautiful country, worthy, with people who can overcome certain bad customs and can catch up with the European train that, unfortunately, has left us somewhat behind. We have this mission, we have the power and of course, the strength lies in the unity of all Romanians to make a change for the better."