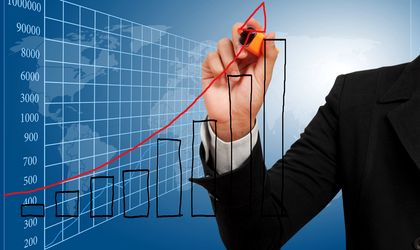 Businesspeople believe the Romanian economy will record a moderate growth this year and half of them expect a GDP increase by 4-4.5 percent, according to a survey of KeysFin.
"Businesspeople are moderately optimistic or even slightly worried about the real evolution of the economy this year. The inflation, the RON depreciation and the uncertainties related to the fiscal framework are the main warnings of the business environment," says the document.
According to the Keysfin barometer, that registered over 150 businesspeople from several activity fields, such as trade, financial services, agriculture, energy, confections, IT, Romanian economy will continue to grow in 2018, but the growth will moderate significantly in comparison with the growth from 2017.
"54 percent of the managers surveyed by KeysFin estimated a GDP growth between 4-4.5 percent, 23 percent of them estimated an economic increase by over 5 percent, while 7 percent consider that the GDP will increase by less than 4 percent; 16 percent of them avoided to answer considering that currently there are too many uncertainties related to the economy evolution, especially in the second part of the year," says the source.
The uncertainties related to the Fiscal Code are in top risks for the economy, an issue identified by more than 76 percent of the respondents.
"Taking account the unstable fiscal framework, many businesspeople delayed the investments and businesses expansion plans, and this is is due to the fact that the fiscal challenges are joined by significant increase in prices of Romanian loans," say the KeysFin analysts.
Regarding the fields that will perform this year, 72 percent of the businesspeople mentioned the trade.
" The increase in salaries and pensions will influence significantly this segment, but not as in 2017, taking into account the increase in prices forecasted by producers and merchandisers due to the depreciation of the national currency," says the KeysFin data.
The barometer was developed during December 10-30, 2017 on a sample of 150 firms from different fields.