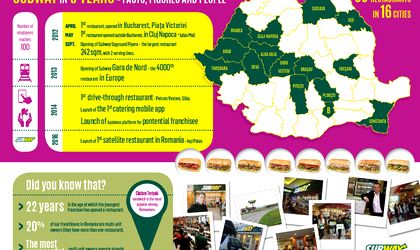 Subway, which operates 35 restaurants in Romania, recorded a 12 percent increase in customer count in 2017, at its fifth anniversary on the Romanian market.
The financial results of restaurants strengthened, and recorded a 36 percent year-on-year increase, and a10 percent year-on-year increase in national sales since the beginning of the year.
Subway operates restaurants in Bucharest, Alba Iulia, Arad, Brasov, Cluj-Napoca, Constanta, Deva, Focsani, Iasi, Oradea, Pitesti, Ploiesti, Sibiu, Suceava and Timisoara.
For 2017, the quick-service restaurants chain plans continuing its expansion, to reach at least 40 locations. In Bucharest-Ilfov, according to Rumen Radev, Business Development Agent, the focus is on traditional restaurants, located in malls and areas with major footfall, but also on non-traditional locations, such as gas stations.
Cooperation with Petrom stations chain led to 7 opened restaurants in Romania and the plans are even more ambitions, according to Andrei Trifan, Business Development Agent for the areas outside of Bucharest-Ilfov. He also mentions the interest in developing locations in cities like Galati, Piatra Neamt, Ramnicu Valcea and Targu Jiu.
Last year, Subway announced a new visual identity, that captures the essence of the brand in a fresh, contemporary look, positioning it as a delicious, nutritious and affordable choice for today's discerning consumers.
"This anniversary and, moreover, the plans for further expansion, show our appreciation for the Romanian customers, to whom we wish to continue providing tasty and quality products. The growth potential for this segment is still high, as more and more people are in search of quick service restaurants where they can find diversified tastes and flavours, according to their wish," stated Martin Princ, Country director for Central & Eastern Europe.
Subway employs around 360 employees in Romania.