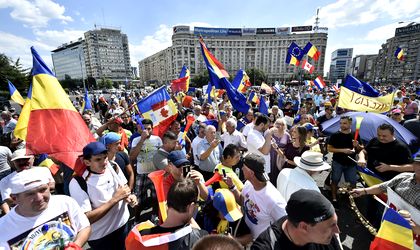 Romanians living abroad as well as locals, supported by popular artists and musicians, will repeat on August 10, 2019 the massive protest that took place last year against the Dancila government, which ended violently following a brutal intervention by the gendarmerie which led to a criminal investigation that has still not been concluded. This year's rerun is thus even more emotionally charged than the original protest, but it remains to be seen whether it will bring out as many people as the 2018 protest. 
Other protests are being organized on Saturday in other big cities such as Cluj, Craiova or Iasi, under the title of "Still know what you did last summer!"
Many local artists and singers have expressed support for the protests, while German pianist Davide Martello announced that he would play his piano in Bucharest's Victoriei Square.
"I'm sorry to have to cancel all my upcoming concerts in Germany. There is a big demonstration on August 10 in Bucharest against the corruption in Romania. Last year, at the same peaceful demonstration, police used teargas against their own people, I want to help them this time so they can hide behind my piano in case the police uses teargas again. ‪Romanian pianists are welcome to play my piano too," he wrote on his Facebook page.
One year after the violent action by law enforcement, nobody has been found guilty despite an investigation being launched by the prosecutor's office.
In fact, the Romanian gendarmerie is still led by those accused of ordering the brutal intervention, which was allegedly carried out under pressures from former PSD leader Liviu Dragnea, jailed for corruption in May.
However, current PSD leaders seem more cautious and uninterested in repeating last year's violence, as they have lost popularity and are struggling to maintain a weakened ruling alliance with junior party ALDE, led by Senate leader Calin Popescu Tariceanu.
At the same time, many of Dragnea's close allies, including the former Internal Affairs minister Carmen Dan, have lost their positions of power and influence.
Low popularity
The current Internal Affairs minister, Mihai Fifor, has publicly asked protesters to be peaceful, suggesting that there would be no aggressive intervention by the gendarmes.
This appeal comes in a moment of very low popularity for the Romanian police and Gendarmerie, following last year's events and the recent tragic death of a Romanian girl in Caracal, where the incompetence and indifference of law enforcement shocked the nation and exposed a failed state.
Officially, the current Gendarmerie's heads are still ridiculously claiming that the protesters in August 2018 tried to change the "constitutional order" of the country by attempting a coup d'état – and a formal complaint was even submitted to the Directorate for the Investigation of Organized Crime and Terrorism (DIICOT).
But other complaints submitted against the gendarmes by victims of their violence are still under investigation, a delay seen by many as an attempt to cover up the truth and escape responsibility.
However, the public anger is playing against the main ruling party, so some of its leaders are keeping a low profile in this period.
The mayor of Bucharest, Gabriela Firea – an important leader in the PSD -, has chosen to delegate her tasks to a deputy mayor on August 10, a strategy she had also used last year.
The current PSD leader and prime minister Viorica Dancila seems to have other major concerns besides the protest: trying to convince coalition party ALDE to maintain the alliance, as Tariceanu has reportedly been considering other options, including breaking the coalition in order to gather support elsewhere for a presidential run, as the PSD's candidate, Viorica Dancila, might not even be able to reach the run-off in November's election, as she only has the support of 7.5 percent of voters, according to a recent poll commissioned by Europa FM.
The ruling party is also concerned about its overall loss of popularity as the same poll showed that less than 20 percent of voters still support the PSD, while opposition parties USR and PLUS (27.4 percent combined in the last poll) and PNL (25.5 percent) are gaining new voters every month.
These concerns therefore limit the chances that the PSD could be planning to repeat the violent episode of last year's August 10 protest, despite the fact that the PSD seems to see such protests as a political threat.