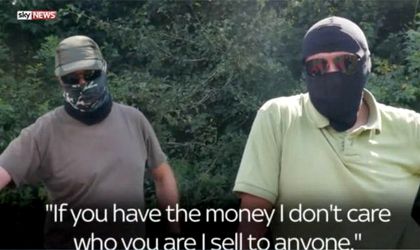 Prosecutors with the Directorate for Investigating Organised Crime and Terrorism (DIICOT) will request, via a rogatory commission, that the British journalists who filmed in Romania a feature report on arms trafficking be heard in connection with communicating false information.
The move comes after DIICOT started criminal prosecution proceedings against three members of the Sky News team who traveled to Romania to film the feature shoot on arms trafficking. The allegation brought against the three journalists is that of communicating false information.
The the formal request is to be sent to British authorities this week, while the hearings are likely to take place next week in the United Kingdom, judicial sources cited by Agerpres stated on Wednesday.
According to the Bucharest Court of Appeals, "through all data and information communicated orally and captured as such in the material filmed by Sky News, which were disseminated via numerous other television station sand mass-media outlets, including online, knowing their false nature (and namely that the individuals featured in the video were not arms dealers, but hunters, and the arms handled and presented by them were lawfully owned hunting rifles, national security was put in jeopardy, and the fact described represents the offense of communicating false information (…).
Furthermore, the Court of Appeals argued that the members of Sky News team, identified by DIICOT prosecutors by their initials, namely "British citizens R.S.R, S.C.S., and S.J., with intent, have communicated and disseminated online and via mass-media, news and false information referring to the alleged arms trafficking in Romania, although they kew the news were false."
According to the court, the conduct of such actions in Romania could affect nationals security by misleading European authorities as well as the population about the ability of Romanian authorities to manage arms trafficking coming from conflict areas and the supply with military-grade weapons of terrorist groups in Western Europe and other conflict areas.
The judges also argued that, "without the fast and efficient intervention of Romanian authorities, all these elements would have stayed in the public memory the way their authors intended to present them."
The three Romanian citizens who appeared in the Sky News feature report were put under criminal investigation by DIICOT on August 12 and have since been arrested. 
Georgeta Gheorghe