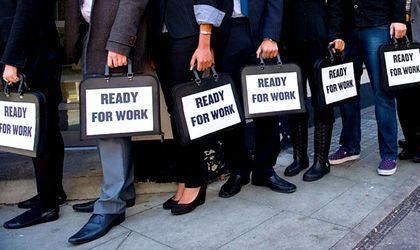 Romania's unemployment rate (under ILO standard) stood in March at 3.8 percent, while the number of unemployed people declined to less than 345,000, the lowest level in more than two decades, National Institute of Statistics (INS) data showed on Friday.
Unemployment rate is the number of unemployed people as a percentage of the labour force, where the latter consists of the unemployed plus those in paid or self-employment
The unemployment level registered in March is the lowest since International Labour Organization (ILO) unemployment statistical data are available in Romania (1993).
INS said that the unemployment rate was 3.9 percent in January and 3.8 percent in February but the series could be revised within the next months.
The number of unemployed persons aged 15-74 was 344,511 in March, down from 349,894 in February and 388,076 in March 2018, according to official seasonally adjusted data.
The unemployment rate among men exceeds the rate among women by 0.6 percentage point, with 4 percent for men and 3.4 percent for women.
More foreign workers
This year, the Romanian government has adopted a decree that increases quotas for non-EU foreign workers in 2019 up to 20,000 work permits, an all-time high number, as there is higher demand from local companies claiming they are affected by the workforce crisis.
Employers claim it's harder than ever to find new workers in Romania in sectors like construction works or shipbuilding and prefer to bring foreign workers.
Emigration and labour shortage in Romania put increasing pressure on employers to find skilled workers in order to expand their businesses.
The Labour Ministry claims that more than 60,000 jobs are available and the companies offering them never find workers.