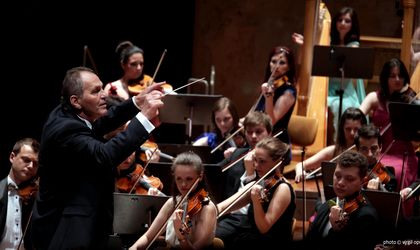 The Romanian Youth Orchestra will perform as part of the International Youth Orchestras Festival in Milano, which will take place between July 1 and July 21.
The Romanian Youth Orchestra will be led by Cristian Mandeal and will have cellist Julia Hagen as a soloist. The orchestra will perform "Variations on a Rococo theme for cello and orchestra, Op 33" by Tchaikovsky on July 15th, from 21:00. The program will also include the Symphony No 1 in D major, Op 25 – Classic by Prokofiev and the Symphony No 4 in A Major, Op 90 – Italian by Mendelssohn.
Among the orchestras invited to perform during the festival in Milano are the Nova Philharmonic Orchestra from Slovenia, The Italian Youth Orchestra and the National Jazz Youth Orchestra.
This is the first time Milano is the host of an event dedicated to youth orchestras. The festival is hosted and created by UniCredit Pavillion, together with Concerto Management SRL and is organized to promote young talents in the musical field.
The Romanian Youth Orchestra will also perform as an opening act for the "Vara Magica"Festival in Bucharest at the Romanian Athenaeum on July 13, with Stefan Cazacu as soloist.
Andreea Dulgheru