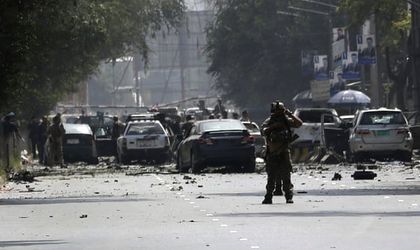 A Romanian soldier died in Kabul, Afghanistan on Thursday in an explosion generated by a car bomb near the Green Zone, an area that houses many foreign embassies and international organisations, where a Romanian diplomat had been killed just two days prior in another terrorist attack that targeted, among others, the Romanian Embassy.
The Romanian Defence Ministry (MApN) said that the soldier was part of a mixed patrol mission near the Green Zone.
President Klaus Iohannis issued condoleances to the soldier's family.
"The Romanian Army is and will continue to be a fundamental institution of our nation, which deserves gratitude and appreciation from all Romanians and which will continue to fulfil its duty, together with our allies and partners to maintain international peace and security," Iohannis said in his statement.
The two attacks this week come in a period in which the US is actively negotiating with the Taliban, a group that controls a significant part of Afghanistan's territory, more than it has at any time since the US declared war on the country in 2001. The US said it was considering a withdrawal of about 5,000 of its 14,000 troops in Afghanistan.
Photo: Rahmat Gul/AP