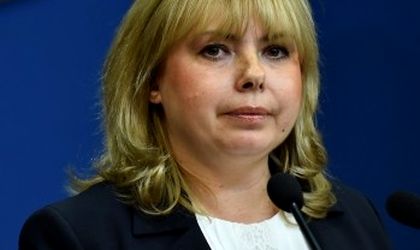 The Romanian economy could grow by 4.5 percent in 2017, former Minister of Finance Anca Dragu said during a debate on the topic of the 2017 budget.
"In 2017 we had a real growth of 4.3 percent forecasted before the wage increase measures and others discussed in the electoral campaign. We didn't take these into consideration, because they come with a stimulus on the demand side, on consumption. Over the 4.3 percent, probably we can see 0.2 – 0.3 percentage points. Somewhere around 4.5 percent is a reasonable figure," Dragu said.
"I would like to stress the fact the economic growth model becomes one mostly stimulated by consumption. Consumption becomes the engine. The fiscal policy is not a policy that can lead to a sustainable economic growth and there are risks for 2018. It seems to me that 2018 cannot afford this many wage increases and consumption stimuli" Dragu said.
According to Dragu, for 2016 the budget deficit stands at 2.4 percent of the GDP, below the 2.8 percent target.
"It was a very difficult year with tax cuts and taxes and wage increases. One doesn't know the moment when you have VAT differentiated cuts what the revenues will be, how the structure of consumption will change. The challenges were big, and our figures were very good," Dragu said.
The state budget for 2017 is built on an economic growth of 5.2 percent and a 2.96 percent deficit from the GDP.
Georgeta Gheorghe