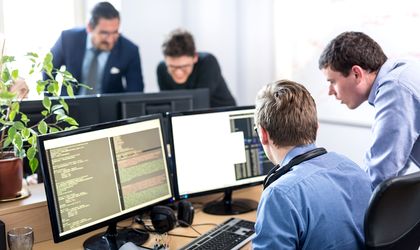 While Romania has a lack of work-force in the IT sector that counts to thousands of jobs, the wages in the sector are still the lowest in the region. The highest salaries in the region for those working in IT are paid to Estonian specialists, whose net average wage is EUR 1,567 per month, according to the Paylab payroll comparator launched in Romania by eJobs.ro. They are followed by Slovenia, EUR 1,341 a month, Czechs, EUR 1,289 and Slovakia, which earn an average of EUR 1,159. In Romania, the net average wage is EUR 805.  
"IT is undoubtedly one of the hottest areas of recent years. Not only from the perspective of the growing number of options that candidates have, but also because IT workers have become the most paid employees in Romania, surpassing areas that have traditionally been recognized for the high salaries they offered . I refer here to banking, law or financial services. However, Romanian IT-players earn less than their peers from other countries in the region, with the differences being in some cases from simple to double, as is the case with Estonia, for example, where the average net salary of an IT specialist is of EUR 1,567," says Bogdan Badea, eJobs Romania CEO.
Less than EUR 1,000 a month earn only Croatian specialists (EUR 990) and Serbian (EUR 816).
"Interestingly enough, Bulgaria is overtaking us with a net average salary of EUR 1,027 for the IT industry, as it was generally one of the few countries with lower wages than ours," adds Bogdan Badea.
At a very close level there is Hungary, with a net average reported of EUR 1,010 per month.
The growing number of jobs in IT, the fast-forward prospects, as well as wage and extra-salary packages are the main reasons why this area has entered the top two in the top of the month-to-month greater number of applications from candidates. Thus, in the first half of the year, over 500,000 applications were registered for IT jobs.
At present, over 3,000 IT jobs are available at www.ejobs.ro.