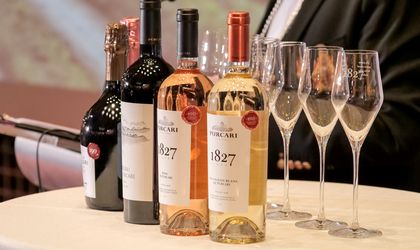 Purcari Wineries, market leader in Moldova and Romania on the premium wine segment, listed today on the Bucharest Stock Exchange, under the WINE symbol, following a successful IPO of 49 percent of its shares. This is the first BVB listing for a Moldovan company.
The offering was well received, with retail investors oversubscribing more than four times over. The final offer price was RON 19 per share, valuing the offering at over RON 186 million (USD 50 million).
Purcari is led by Founder and CEO Victor Bostan, an oenologist by training with over 35 years of experience in the wine business, and backed by Horizon Capital, the leading private equity firm in Ukraine and Moldova, and the International Finance Corporation (IFC), a member of the World Bank Group.
"Today we begin a new chapter for Purcari, continuing on our roadmap to becoming the undisputed wine champion in CEE. I could have not wished for better partners, including Horizon Capital who supported us through good and bad and contributed immensely to our success as a hands-on investor, as well as IFC for their financial backing. I also extend a warm welcome to our new shareholders, who kept calm amidst market jitters and who embraced our vision of building a regional champion in the rapidly growing CEE wine market," said Victor Bostan. "It is truly a great time to be in the wine business: global supply is unable to meet rising consumption, leading to shortages and higher margins for producers. Unlike oil, the supply-demand curve cannot be easily rebalanced as there is no such thing as "shale wine". We look forward to capitalizing on these favourable conditions, leveraging our low-cost position and strong brands," he added.
Lenna Koszarny, Founding Partner and CEO of Horizon Capital, added: "Purcari Wineries has made history today with the first public listing by a Moldova-based company. This is a fitting legacy for an iconic brand, one that has delighted wine lovers since 1827 and earned a well-deserved leading position in Romania and Moldova while expanding its global reach."
Adrian Tanase, CEO of the Bucharest Stock Exchange, said: "Romania was one of the most active capital markets in terms of IPOs in 2017, and the trend will continue in 2018. Through the listing on the BVB, Purcari is sending a strong message regarding its objective of becoming the undisputed leader of the wine market in the CEE region. Their example should be followed by all companies that want to become leaders in their field."
Driven by robust consumer spending across CEE, Purcari has expanded revenues significantly at a CAGR of 34 percent between 2014-2016, with the growth rate in Romania at 55 percent, Poland at 49 percent, Moldova at 44 percent, and the Czech Republic and Slovakia at 15 percent. The high level of growth sustained in 9M 2017, during which Purcari grew sales 35 percent year-on-year, accelerating to 69 percent growth in Romania.