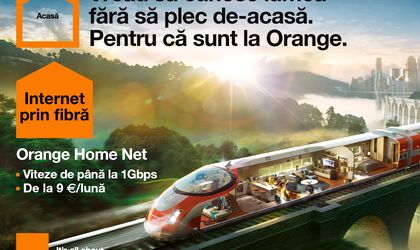 Orange Romania announces the launch of the complete service package Orange Home, through a campaign signed by Publicis Romania agency.
"When the visual transmits correctly the marketing offer, tells a story, wakes up the curiosity, looks different than the big majority of communicational materials and inspire anyone's imagination, we can talk about a good ad, I believe. We've launch a new Orange service, spectacular in its offers, in a manner that it does justice. The high speed train, the rocket, the submarine are from the beginning associated with speed and adventure. As long as they look different the series of ads in discussion transmits the idea of super-mobility in a fix frame, a home one. In other words: it's more comfortable than ever to live new experiences," said Silviu Nedelschi, group creative director of Publicis Romania.
The campaign started from the idea that the technology enriches people's lives. The visuals are made together with MacriStudio and Carioca. The production process took several months.
The campaign's Tv spot "Experiențe noi la tine acasă" (New experiences at your home) required a big technical effort – the filming being done with a technology especially imported for this project. A full motion-control device was brought and the scenography in itself represented another special effort.
The teams that worked on this campaign include:
Publicis Romania: Daniel Raicea – Head of Orange DPT, Alina Vija – Account Manager, Jorg Riommi – Chief Creative Officer, Silviu Nedelschi – Group Creative, Cezar Panait – Senior Copywriter, Cristian Anton – Senior Art Director, Mihai Țigleanu – Art Director, Ștefan Manole – Art Director, Camelia Efrimov – AV Director, The production house: Abis Studio, OOH – MacriStudio & Carioca.
Orange Romania: Mirela Bosoi – Head of Brand and Communication, Crina Tenovici – Head of Data & B2B Communication, Anca Stancov – Head of Media, Camelia Ianculescu – Head of Retail Communications, Nicoleta Stanciu- Communication Specialist, Mihai Dobre – Media Specialist.
Romanita Oprea