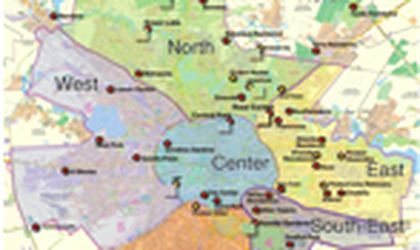 Samsung expressed great interest in a public-private partnership with the Romanian state on the implementation of Romania's General Cadastre, according to a press release from the Ministry of Tourism and Regional Development.
A meeting between the Romanian minister Elena Udrea and the vice-president of  Samsung C&T Corporation, Yang-Bai Kim took place yesterday at Gyongju, The Republic of Korea, exploring the opportunity of a public-private partnership between the company and the Romanian state on several projects.
 The implementation of Romania's General Cadastre would require the registration of all lands and buildings on Romania's territory, creating electronic maps and releasing the data on the internet, to be available to anyone interested. This is considered a priority by the Ministry of Tourism and Regional Development, which is in charge with the coordination of the National Agency of Cadaster and Real Estate Advertising.
 The minister also said that the implementation of the General Cadastre can start in approximately 3 months.
 "The acquisition procedures will start shortly so that in 3 months we can start drafting the cadastre, and Romania will have at last a clear record of all real estate properties, as it committed in front of international institutions. Unfortunately, 20 years of non-unitary application of an often altered piece of legislation on property has brought us in the situation in which the piece of land owned according to the property titles released in time exceeds the surface of the country. This means that either properties overlap, or several people have ownership rights over the same lands," said Udrea.       
 "We are glad to find out that in just three months a public-private partnership for such an important project can be started. We are extremely interested in taking part in its implementation. We have already found financing solutions and we are ready to make this investment," said Yang-Bai Kim during the meeting.
 Other projects that made the subject of discussion were the Polivalenta Hall in Bucharest and the Gheancea district eco-neighborhood.
 Yang-Bai Kim said he is interested in all these projects and will dispatch teams of specialists to Romania to analyze the projects.
Otilia Haraga