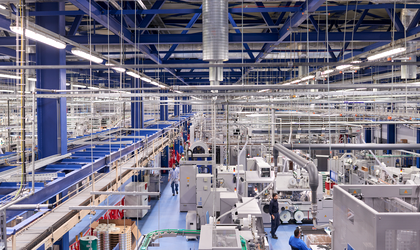 Philip Morris International has started production of HEETS in its Otopeni factory. The products will be sold on European and Asian markets. 
In July, Philip Morris International announced an EUR 490 million investment to transform its Otopeni cigarettes factory into a unit that produces reserves for its heat-not-burn product IQOS. Moreover, the company announced that the investment includes the creation of over 300 new jobs, which will join the factory alongside the current 670 employees.
This is the first factory within the group that started production after completing the transformation process from producing cigarettes to the new heat not burn products. "Out of the factories that started, this year, the transformation process (…) the Otopeni factory is the first that started production. The Romanian factory will serve more markets in the European Union, but also in Asia, with the first exports heading for Japan," Herman van Staalduinen, Operations Director Philip Morris Romania.
By the end of 2018, Philip Morris International is planning to have an annual global production of approximately 100 billion HeatSticks billion. The transformation of the Otopeni factory will be ready by 2020, and includes a new tobacco production section. According to company representatives, PMI's Otopeni factory, which has received several investments until now, is one of the most efficient in the group.
"The geographic positioning and their performances proven in time are the attributes that made the decision to invest in Romania a natural one," Branislav Bibic, Managing Director Philip Morris Romania said.
IQOS entered the Romanian market in November 2015, as the first heat not burn product, and by the end of the year will be sold in the main cities in the country.