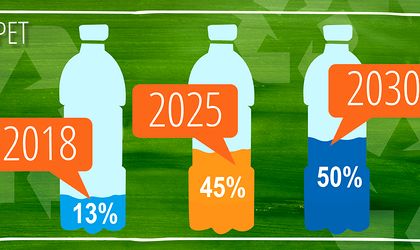 PepsiCo has imposed itself a 50 percent recycled plastic packaging (rPET) target by 2030 in EU countries, with a 45 percent intermediate target by 2025. By achieving this goal, the company will triple the amount of recycled plastic it uses up to the equivalent of over 50,000 tons of rPET.
The announcement comes in support of the European Commission's voluntary recycling plastic campaign, which requires that by 2025 ten million tons of recycled plastic be used to make new products for the European market.
The PepsiCo target covers all EU countries by 2025, targeting all beverage brands in the company's portfolio, including PET bottles, including Pepsi, Pepsi MAX, 7Up, Tropicana and Naked. This will apply to all operations related to PepsiCo's beverage production and has also been accepted by franchise bottlers.
PepsiCo already uses about 13 percent recycled PET (rPET) in its bottling operations in the EU in 2017.
"I am happy to announce that we will move to the next level in the use of recycled plastic in our product packaging by working to reach and surpass this new goal in the coming years. We want to reach our goal by 2030: 50 percent of our PET packaging will contain recycled material, " says Silviu Popovici, chairman and chief executive of PepsiCo operations in Europe and sub-Saharan Africa.
PepsiCo products are consumed in over 200 countries and territories around the world and the company generated USD 63 billion in net revenue in 2016, brought by a portfolio of food and beverages including Frito-Lay, Gatorade, Pepsi-Cola, Quaker and Tropicana.