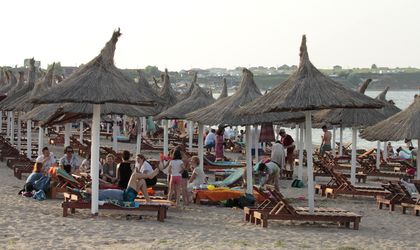 Pentecost weekend and an unexpected heat wave brought a record 40,000 to the Romanian seaside. The long week-end marked the start of the summer season and saw hotels record a 50 percent occupancy rate.
With school holidays starting later this year, 10 days later than the traditional June 15, hotels at the seaside were left waiting for an official start. Last week-end provided a proper substitute, according to industry voices. "The Pentecost gives us the opportunity to record a new wave of tourists this week-end at the seaside," Dorina Martin, president of Litoral – Delta Dunarii Association told Mediafax.
According to Martin, the prospects are good for hotel owners and operators. "The occupancy rate of hotels at the seaside is continuously increasing as we approach the summer holiday season", Martin said. "According to estimates received by tour operators, this season we had the best seaside holiday sales for the past then years, she explained."Mamaia, famous for its lively nightlife, is still among the most popular resorts, followed by Venus and Eforie Nord, according to Martin.
Most hotels sought to attract clients by offering extras, such as Pentecost festive dinners and discounts, which, according to industry voices, went up to 30 percent off the regular price. "Each hotel cam up with its own package, they all include discounts that go up to 30 percent off the regular price for this time of the year, especially that until now the bad weather, the forecasts, kept tourists away from the seaside," Dragos Raducan, vice-president of the Unions Federation in Romanian Tourism (FPTR) told PROtv.
Some destinations, such as Constanta, hosted events such as a bike march, and many nightclubs offered concerts and parties featuring international artists and DJs. Helped by the good weather, with temperatures going up as high as 30 degrees Celsius, they managed to reach an occupancy rate of 50 percent.
Still, some hotels owners are unhappy with the fact that the start of the school summer holiday was postponed to June 25. According to Nicolae Bucovala, in the past years, on June 15 hotels had an 80 percent occupancy rate.
Overall, hotels at the Romanian Black Sea coast offer 80,000 beds.
Georgeta Gheorghe