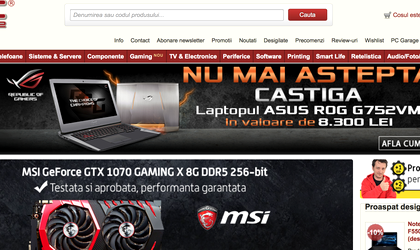 PC Garage has recorded RON 19 million in Black Friday sales. The website sold over 34,000 products, up by 25 percent year-on-year. Most clients came from Bucharest, followed by Cluj, Timisoara and Brasov.
The biggest purchase placed on www.pcgarage.ro had a value of RON 26,000 and the most expensive item was a smart TV LG UHD, with a price tag of RON 13,000.
The average value of a purchase increased significantly compared to 2015, up to RON 1,050. Components were the most popular item, followed by laptops, TVs and phones.
The peak was recorded Friday, at 12.20 am, when the website had over 15,000 visitors. PC Garage was founded in 2005 and has an offer of over 30,000 products. It has over 250,000 registered users and counts over 400,000 clients across the group. The website records around 2 million visits every month.
Georgeta Gheorghe