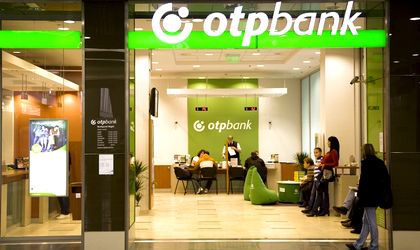 According to OTP Bank's financial report, OTP Bank Romania registered an unadjusted consolidated profit after tax of RON 8.8 million, up 50 percent over the same period last year. Earnings before tax, amounting to RON 16.7 million, were almost double the level of the first quarter of 2015.
Operating profit improved significantly over the last quarter of 2015, going from a loss of RON 5.7 million to RON 29.7 million in profit. Year on year, however, it presented a 3 percent decrease (from RON 30.6 million in Q1 2015). Total revenues in the first quarter 2016 increased by 27 percent over the previous quarter to RON 106.2 million, but decreased year on year by 6 percent (to RON 100 million), mainly due to the decrease of 26 percent in net commission income.
The bank felt the measures of the conversion program of Swiss francs mortgages, which resulted in lower volumes of loans (-3 percent). This, in turn, led to a slight quarterly decline in net interest income, from RON 74.7 million to RON 74.4 million.
Operating expenses decreased to RON 70.3 million (by 7 percent compared to the same period last year and 16 percent y-o-y), with OTP Bank Romania branch posting among the most significant cost reductions for the group in the first quarter of 2016. Total risk costs were 47 percent lower than the previous year.
The total gross loans portfolio, adjusted for the effect of the exchange rate, was reduced by 8 percent compared to the same period of 2015, due to lower volume of individual loans and decreased by 5 percent over the last quarter of 2015.
In accordance with local regulations, the bank's capital adequacy ratio was 14.6 percent at the end of March, which means an improvement of 0.4 percent from the previous quarter.
At group level, OTP Bank posted an adjusted profit of HUF 47.6 billion (about EUR 153 million) in the first quarter of 2016. In terms of performance, all foreign subsidiaries of OTP Group (excluding Touch Bank) have shown profit.
OTP Bank Romania, a subsidiary of OTP Bank, is an integrated and self-financed provider of financial services. OTP Bank provides universal financial services in Hungary, Romania, Montenegro, Croatia, Bulgaria, Russia, Ukraine, Slovakia and Serbia for more than 13 million customers, through a territorial network of over 1,500 ATMs and e-channels.
Natalia Martian