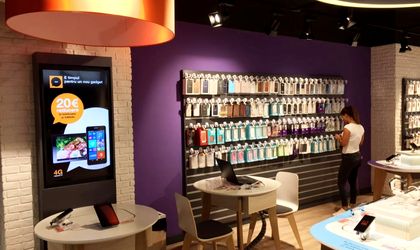 Telecom operator Orange Romania has opened a new smart store in Plaza Mall Bucharest. This will be the company's ninth concept store across the country.  The other eight smart stores of the company are located in Arad, Bacau, Bucharest – Baneasa and AFI Cotroceni, Cluj-Napoca, Iasi, Oradea and Timișoara.
The Plaza Mall smart store is split in several parts- the Shop area, which includes Best Deal products, accessories, phones and tablets, the Expres office where customers can require information, the Acasa area where they can test the Orange Home TV as well as smart devices that can be controlled via application.
The smart store will be launched with a special launch offer valid in Plaza Mall in Bucharest only until September 7.
The offer includes:
EUR 50 discount for all Samsung 4G smartphones and tablets acquired together with a new subscription or upon the renewal of the contract for 24-months
EUR 25 discount for all the other 4G phones and tablets acquired together with a new subscription or upon renewal of the contract for 24 months
EUR 25 discount for all accessories
Otilia Haraga