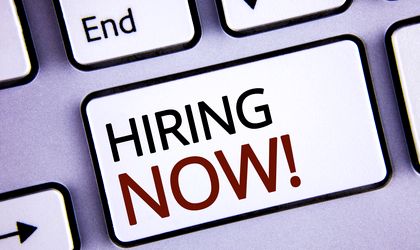 One in four Romanian employers are planning to recruit students between October and December 2018, according to the most recent study by HR platform BestJobs. Currently, 58 percent of employers say that up to 5 percent of their employees are still students, while in the case of 22 percent of employers, one in five employees is a student.
Half of employers estimate that they will run up to 10 new positions for recruitment by the end of the year, and another 23 percent, between 10 and 20 new student positions, according to the BestJobs study on a 320 of small, medium and large companies in Romania.
For each open position, companies are looking to hire between 1 and 5 students, and most jobs will be in areas such as customer service (25 percent), logistics and production (16 percent), sales (10 percent), communication (8 percent), but also more complex areas, such as engineering (9 percent) and IT (9 percent).
"In an increasingly labor-poor market, recruiting students is a solution that brings many advantages for the long term. First, they will acquire practical skills while being students and will have the necessary skills after graduation. Young people are keen to learn, they are open to new things and have a very high adaptive power. In addition, their digital skills are much better than the previous generation's, which is an advantage in an increasingly technological environment. On the other hand, there are disadvantages, such as their fluctuating interest in a particular field or employer, the lack of maturity in professional decisions, which can lead to reluctance on the part of companies to recruit them, but, ultimately, we all have gone through it and it is good to look more at the advantages, which are more important," says Madalina Dan, Clients Manager at BestJobs.
Looking ahead, even if employers are looking for a younger workforce, they are not willing to offer flexible work schedules to those who still want to continue their studies. Most employers (62 percent) say they recruit students for a full-time work schedule and only 19 percent of companies mention a flexible or part-time schedule (19 percent).
As for the training of new candidates, most companies (60 percent) choose to provide training for their employees, while 16 percent offer more specialized training courses outside the company. Only 1 percent of employers offer their employees the opportunity to complete their Masters, Ph.D. or paid management courses.
Salaries
Student wage packages are similar to those offered to graduates. Most employers (44 percent) say wage claims vary between RON 2,000 and RON 3,000 for a full-time job with no previous experience in the field.
Another 36 percent of companies say that students are expecting salaries ranging from RON 1,000 to RON 2,000. About the salary package offered to student candidates, over half of employers (51 percent) say that it is at the same level as an employee's salary with a similar position, but with completed studies.
At the same time, 19 percent of companies say the salaries offered to students are up to 10 percent lower, while 13 percent offer even 25 percent less to a student than to a graduate.