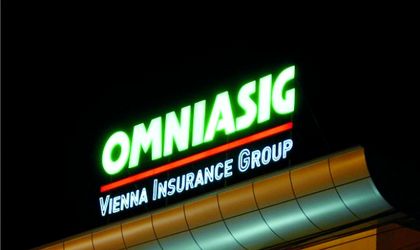 Omniasig Vienna Insurance Group (VIG) had positive results across most of its activity segments in 2015, bringing a 13 percent increase in business for the company, according to its financial results.
The insurer registered gross written premiums (GWP) totaling RON 976.67 million in 2015, a 13,5 percent advance on the year, and profits amounting to RON 28.87 million.
Omniasig paid last year compensations worth RON 539.11 million, a 19.2 percent drop over the previous year.
According to data from the Financial Supervision Authority the insurer places first in general insurance, with a market share of 14 percent and first in terms of compensations paid.
On the RCA Insurance line, the GWP reached RON 322.01 million, while the Casco voluntary insurance line brought in RON 317.50 million worth of GWP.
The total amount of compensation paid on the auto insurance segment was RON 433.95 million, registering a decrease of 9.8 percent over the previous year.
The property segment recorded a value of  gross written premiums of RON 185.59 million in 2015, representing an increase of 1.3 percent over the previous year.
On the other lines of insurance, the company secured RON 8.79 million for accident and health insurance, RON 4.41 million for health insurance, RON 18.19 million for insurance of goods in transit, RON 66.12 million for general liability insurance and RON 6.38 million for travel insurance.
The number of substantiated complaints received by Omniasig VIG in 2015 (128) recorded a decrease of 54.6 percent compared to 2014, representing 16 percent of the total number of petitions new single recorded per claimant and per case. Related to the number of insurance policies issued by the company in the previous year, the number of complaints registered per claimant and per unique case is 0.037 percent, and compared to the number of claim files paid by the company in 2015 – 1 percent.
Omniasig VIG is a general insurance company in Romania with a 14 percent market sahre and a social capital of RON 463.8 million. Its solvency margin is at RON 300.2 million (while the minimum solvency margin required by law is RON 133.1 million), the solvency ratio is 225 percent and the liquidity ratio is 1.81.
Natalia Martian