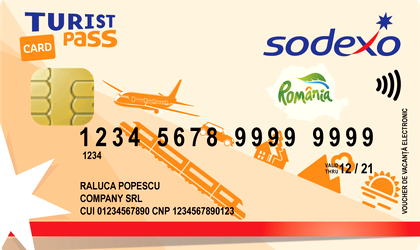 As a response to the challenges faced by HR specialists when selecting the best solutions for motivating and rewarding employees, Sodexo is launching the Turist Pass, a benefit that employers can use to motivate and retain talents in Romania's competitive labour market.
Employees can receive up to RON 11,400 for holidays each year, and the amount is 100 percent deductible for the company. The Turist Pass cand  be used for purchasing touristic packages from a large dedicated network of hotels, guest houses and travel agencies.
Sven Marinus, CEO Sodexo Benefits & Rewards Services Romania, said: "The Turist Pass stimulates consumption of local tourism and users are going to discovers dream destinations in Romania. In 2017, holiday vouchers have been among the most used extra-salary benefits and they have been offered especially by those working in the goods distribution industry, energy, transportation, FMGC and auto sectors."
The contactless Turist Pass holiday card is issued under the MasterCard International license and it benefits from CIP and PIN technology. Holiday vouchers are issued in both digital and paper gormat and they can be used in parallel for purchasing accommodation services, meals, leisure activities and treatment services.
The list of available destinations can be easily identified by using the Card Sodexo Romania mobile app, the same app already used by meal card consumers. Turist Pass can be used in Sodexo's partner locations that have a POS terminal and are authorized by the Tourism Ministry.
"The Romanian vouchers industry has come long way in terms of diversifying services and digitalising the system and employees, especially those from the new generation, are appreciating this trend. Offering a salary package which includes diverse extra-salary benefits increases the chances of reaching recruitment and employer branding goals," added Sven Marinus.
Compared to offering the same net amount of money, the company saves 37 percent of the budget allocated per employee by using holiday vouchers.
The amount of money deposited on the Turist Pass card is valid for a year and the employer can deposit money several times. This benefit can be offered both to employees in the private sector, who can receive up to RON 11,400 per year, and those working in public institutions, who can receive up to RON 1,450 yearly for holidays.