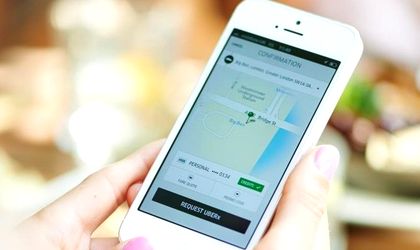 An emergency ordinance passed recently by the Dancila government at the request of taxi groups has come into force on Thursday, and may lead drivers working for Uber, Bolt or similar ride hailing services to stop their activity in order to avoid the significantly increased fines that the ordinance has introduced for carrying out ride hailing activities without a valid transport license.
UPDATE 2: Uber and Bolt officials told Mediafax that they would offer financial and legal support to partner drivers who would have issues related to the new ordinance. Drivers have received in-app messages that informed them of this fact and asked them to report possible abusive behaviour.
UPDATE 1: Transport minister Razvan Cuc said on Thursday that the claims that ride sharing services would be banned were "fake news" and noted that they would be regulated through a new law that would soon be put up for public debate. Cuc said that he had discussed the issue with the companies' representatives in a meeting at the Ministry.
"They won't be banned, they won't have problems, on the contrary, there hasn't been any regulation in this area for five years, and the PSD government is the government that will legislate this field. They have been very pleased as they've had a partner for dialogue over the past month, they had a few observations we had to take into account, and then we will submit this project in the transparency procedure. We must regulate it technically and legally,  but we're not talking about a ban. Through the April ordinance, we combatted piracy. Uber is not piracy, this is a big confusion," Razvan Cuc said.
---
Taxi drivers had protested repeatedly in Bucharest, accusing firms like Uber, Bolt and Clever Taxi of unfair competition and illegal operations, leading the government to pass this regulation and promise that a new ordinance would be introduced to also regulate ride hailing services, before the former came into force. However, authorities have not kept their promise and no new ordinance has been introduced, although some in the government continue to say that this new set of rules would be published soon.
As a result of the new rules, partner drivers for Uber/Bolt might decide that it would be too risky for them to continue this activity, as they can now be fined up to RON 5,000 by police on the spot when they are found to provide transport services without a proper license, while the old rules stated that they had to be caught "repeatedly" in order to receive a fine, which meant that sanctions were very difficult to apply. Therefore, users of these apps will most likely have to wait longer and pay more money for a ride.
Catalin Codreanu, the president of the Coalition for the Digital Economy, which represents Uber and Bolt, said for Mediafax: "The apps cannot be shut down because they operate globally. On the Romanian market, it's possible that customers will have a harder time finding a car, because it will be up to the drivers whether or not they continue to use the app, because in the absence of a ride-sharing regulation, police will be able to hand out fines much more easily and drastically, including confiscating the license plates or the vehicle registration card for up to six months. This will lead to very long wait times for customers and a further congestion of Bucharest, because people will go back to using their own cars. Actions have been taken since the taxi law was changed at the end of March, but these are the results. We continue to want a law to regulate the activity, in order to know what to expect, which authorities to report to, what documents our drivers need."
A study by PwC Romania last month showed that the urban mobility market in Romania, which complements taxi services and includes players like Uber, Bolt and Clever, has an estimated value of EUR 340 million and generates over EUR 210 million in economic benefits.