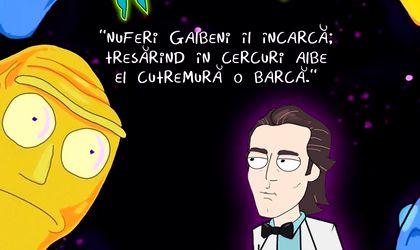 For the movie lovers, Netflix is probably the place to be. It has a series of original movies that keep you in front of the screen, a bunch of very interesting documentaries and a wide range of movies produced by others which are continually updated and improved.
What's more, the online platform has a great sense of humor on their social media channels. And today, on our Romanian Culture Day, they definitely offered the best jokes regarding the national celebration. Some of the Facebook fans got upset because is not suitable to make fun of a national symbol and some others really enjoyed the joke.
Nationwide, a series of events – most of them known as symposiums are taking place to celebrate the great Romanian poet Mihai Eminescu. The journalists from Scena9 did a great map of Romania regarding the events – in Romanian language only. For example, in Oradea (Bihor county), there is a Poetry Circle held by Bihor's Bar Association. In Galati, those who like Eminescu's poems have met in front of the artist's statue and celebrated him over there. Concerts, theatre performances and poetry reciting are among the other activities for this special day. In Bucharest, the only event worth mentioning on this special occasion is the meeting regarding the new Fiscal Code and the changes which are going to be made for those who work in the creative sector. Since last week, the internet is quite on fire because nobody really understands how the independent sector will pay its contribution for social services and more importantly, how much it will cost.
Currently, the budget of the Ministry of Culture seems to be with 50 percent higher than the one of 2017, but this includes the Centenary project, which up to now is a mystery as far as I am concerned. The person in charge of the Centenary is a young male passionate about football and with serious cultural gaps. In an interview published by PressOne publication, Paul Claudiu Cotirlet made several mistakes, but hopefully he will manage the Centenary project with a team better prepared than himself.
Photo source: Netflix Facebook