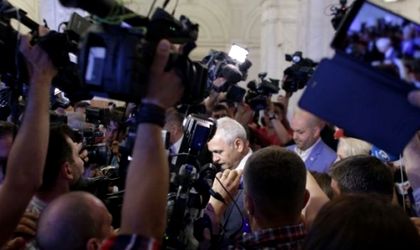 Liviu Dragnea, who until yesterday was the most powerful Romanian politician, left behind after his imprisonment a dog-eat-dog world in his social democratic party (PSD). On Monday, the Romanian politician was convicted to three and a half years in prison for corruption.
Today, his "kingdom" is left without a ruler and his political lieutenants are fighting amongst each other or with the people of Romania, in a battle of statements.
Last night, Romanian PM Viorica Dancila asked her fellow social democrats to remain calm and refrain from making any statements that could rattle spirits even more.
But this was easier said than done for Catalin Rădulescu, a Romanian politician known as the "Machine Gun MP". The PSD member of the Chamber of Deputies, a strong supporter of Liviu Dragnea's, said that public sector employees should give back all the salary raises they got from the PSD governments in the past two and a half years, because they didn't turn out to vote and this led PSD to lose the European elections.
"The doctors who received 4 times their old salary should give the money back or leave the country as they used to do because of their salary, the teachers should go work in foreign countries picking fruits… It means they were not satisfied with those salary increases; and the same goes for the pensioners – they should go vote for USR (the party that won third place in European elections, according to preliminary results). Farmers should give the European grants to USR, because they will take it back anyway. Let's see how they'll live with these parties," Catalin Radulescu said.
He also complained that out of over three million retired people, only half went to vote Sunday. PSD was counting on Romanian pensioners as they make up most of the party's voter base.
Radulescu turned from machine gun to water pistol by a Romanian policeman
After these statements by Radulescu, many Romanians let their anger flow in Facebook posts, but one of them stood out. It belongs to Ionut Rasica, an police officer from Brasov – a state employee targeted by Radulescu's words.
"You aberrant, I earn my salary through work, not through votes. The vote is a constitutional right expressed in accordance with the convictions of every citizen; only an aberration of the political environment, like you and those like you, can put a monetary value on it. I know it's impossible for you to understand, but I did not get my job by voting, but thorugh exams and studies (…) I'll give you back the money at any time. You passed a law in 2017 that would have increased my salary by 25 percent every year and since then, whenever time comes to apply the law, you pass a Government Ordinance to delay it. So you've only raised my salary by RON 3-400, the amount for which the world, because of your lies, hates me today thinking I'm a luxury state employee, in the same category as the doctors and city hall and ministry officials. Meanwhile, since you've been releasing criminals, my workload has increased by about 50 percent, but since you're asking me publicly, I'll make an effort and give you back all the money (…) I'll gladly deal with the inflation as long as you and those like you disappear altogether. I'm waiting for you, we'll go to an ATM, I'll give you back the money and then you get out of politics, ok? " wrote Ionut Rasica.
The legacy of Liviu Dragnea, the once most powerful Romanian politician
After Liviu Dragnea's abrupt downfall, those who had previously attempted a coup in the party and failed are now regaining their political ground. One of those is the leader of PSD Olt, one of the counties where the PSD has the highest levels of support, Paul Stanescu. He said on Tuesday that he was considering a run to become the party's executive president at the party's upcoming Congress this summer.
Another politician that rallied to Stanescu's ideas last year was the mayor of Bucharest, Gabriela Firea. Last year, as punishment for the failed rebellion, Liviu Dragnea dismantled the PSD Bucharest organization in order to leave the mayor without power. He wanted her to be humiliated, but couldn't exclude her from the party, because back them, Gabriela Firea was one of the most popular leaders in the PSD.
"I am a simple member of the party, a member of the PSD, a general mayor, but I've talked with PM Dancila and we decided to have a meeting today after the BPN meeting and before the Executive Committee scheduled for this evening," she explained.
On the other hand, PSD Secretary-General Codrin Stefanescu said today that the sentence Liviu Dragnea's case was "a political decision" and that he was tired of people who abandon their party colleagues when they are in trouble.
Wake up call for Melescanu
Foreign Affairs minister Teodor Melescanu found himself without adequate support in the party after Dragnea went to prison. Melescanu was the target of fierce criticism on Sunday as thousands of Romanians abroad were unable to vote because of the insufficient resources allocated to voting stations in the diaspora, which caused long, slow-moving queues in front of Romanian embassies and consular offices across Europe. This is the same man who was the Foreign Affairs minister during the second round of the presidential elections in 2014, when the same thing happened at foreign voting stations.
PSD also lost a lot of its support due to what happened during the protests that took place in Bucharest on August 10, 2018, when many citizens who live abroad came home to protest against the government and its alleged actions against the rule of law. They were beaten, tear gassed and detained by the gendarmerie, which had a disproportionately violent response to a few isolated incidents of unruly protesters.
On Tuesday morning, despite having repeatedly refused to take responsibility for what happened in the diaspora, Melescanu apologised to Romanians abroad who could not vote on Sunday or spent hours queueing to vote, announcing that he had ordered an investigation in the countries where such problems had been reported.
"I wish to express my regret and apologize to all the Romanians who were unable to exercise their right to vote or who were forced to stand in line for hours in order to vote. Despite the measures taken by the Ministry of Foreign Affairs to increase of the number of polling stations abroad, which reached 441, the voting process in several states, especially in Europe, was not conducted in good or satisfactory conditions," he said in a statement.
Who will replace Liviu Dragnea as President of the Chamber of Deputies?
The PSD's National Permanent Bureau decided to support Carmen Mihalcescu to be the acting president of the Chamber of Deputies. According to some sources in the party, Mihalcescu will be supported to lead the Chamber of Deputies until the election of a full president.
On the other hand, USR officials stated that the Oposition should have a joint candidate, and they suggested Stelian Ion, an USR MP. However, the PNL might not support this idea, as they want their MP Raluca Turcan to take over the role.
Meanwhile, the PSD is hoping not to lose its majority in Parliament, because this would mean that the social democratic party would be through the most painful loss of its history.