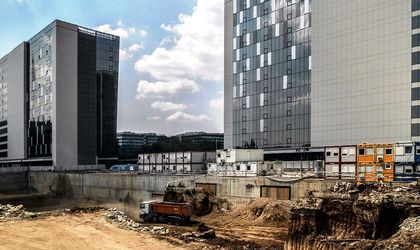 About 23,500 employees are going to be moved in new office buildings this autumn and winter, until the end of the year. 84 percent of the Class A office buildings opened in 2018, that will total 224,000 sqm, will be on the market in the second part of the year, according to an estimate made in Esop Consulting's latest report CORFAC International.
For 2019, real estate developers have announced projects totaling approximately 380,000 square meters, and in 2020 about 242,000 square meters.
"This year, office space supplies will grow 55% over last year, and in 2019 a further 69% increase in the stock of space delivered to the market will take place. Most office buildings will be delivered in the center-west area, where this year's largest volume of pre-rentals has been made. There will be high surface deliveries, as we generally speak of multi-phase projects located on the ring of the 1st subway.  These locations have become very popular in recent years because they enjoy good accessibility as well as reasonable parking facilities. Also, the areas have constantly grown in recent years with a commercial infrastructure appreciated by tenants of office buildings: malls, shopping galleries, restaurants, medical centers, in addition to existing facilities – schools, kindergartens and schools , to universities, "says Mirela Raicu, corporate officer of Esop Consulting and CORFAC International.
The new office area in Expozitiei
The new office area, the one outlined in the Expozitiei area, will have its first offices available from 2019, when the first two class A office buildings are expected to be delivered to the Expo Business Park project. Building number 3, the first to be ready will be fully occupied by ING, and the second Expo Business Park building also has a high occupancy.
City Rose Park 1, the main competitor of this project in the Expozitiei Area, will deliver the first office space until 2020. In total 94,000 sqm of high-quality office space will be built in the area.
In the center-west area, in 2019-2020, the first buildings of Business Garden Bucharest and The Light will be used and will continue delivering the next steps from major projects such as The Bridge, Campus 6 and AFI Tech Park.
The projects announced so far in this area have a total of 296,000 square meters, which are put into use this year and by the end of 2020. As projects are modular, it is expected that the execution times will register slight advances or deviations, depending on the pace of signing pre-lease agreements.
In 2019, in the Barbu-Vacarescu area, Equilibrium, Globalworth Campus C and Oregon Park C are being announced, and a total of 137,000 sqm of office space will be put into operation in 2018-2020.