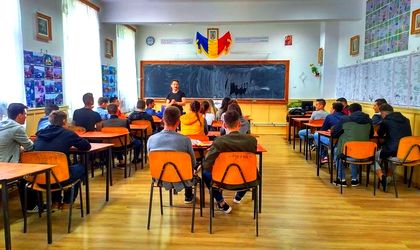 Most high school students (82 percent) rarely or never talk to parents about the start of their sex lives, and 89 percent rarely or never discuss the use of condoms, according to a study by the Semper Musica Association.
The study, conducted in 15 high schools, on a sample of pupils aged between 14 and 19, is part of the project funded by the Orange Foundation "Stand-up: Education for HIV Prevention", in which nearly 5,000 young people from Iasi and Botosani counties participated in free HIV information sessions, based on medical facts and stand-up comedy tools.
Research last September to December revealed that health education sessions led to a 10 percent increase in the number of pupils who said that condom use is very important when having sex, compared to the 78 percent who supported it initially.
At the end of these courses, students were able to more easily identify the risk factors that lead to HIV transmission, learned to protect themselves and understand what constitutes a hazard and what doesn't when interacting with infected people, which has increased their understanding and tolerance towards them.
"Today's situation for teenagers is one in which the parent is less willing to talk about topics such as the onset of sexual life, pregnancy, or the correct use of a condom. If the parent does not talk to their teenage child and teachers are afraid of having problems as a result, the only sources of information that young people have are the internet and their peers. Unfortunately, neither one of them are always trustworthy, so our study should be a call for all parents to take action," said Alexandru Gheorghiu, President of Semper Musica Association.
The project has won RON 32,000 in funding provided by the Orange Foundation through the "Support an NGO!" contest, alongside other health, environment, community development, etc. projects, through which Orange employees are encouraged to propose and coordinate philanthropy projects they believe in, together with a NGO partner.