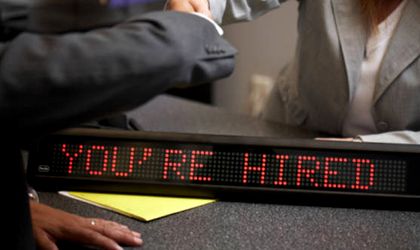 Six out of 10 employers forecast that wages will go up by up to 20 percent for positions opened in the second half of 2018, a survey by BestJobs shows. Over half of employers said they will fill up to 10 new positions in the second half of 2018.
7 out of 10 companies say they are recruiting for positions in their sales departments, followed by jobs in the administrative and production departments.
The labour market in Romania experienced a fast growth in the first half of 2018, with unemployment rate reaching the lowest level on record of 4.5 percent. On BestJobs employers advertised around 200,000 positions, 60 more year-on-year, and the trend is expected to continue in the second half of the year.
That is why, 60 percent of employers are forecasting that they will open up to 10 new positions in the second semester of 2018, and other 21 percent – between 10 and 20 positions. For each positions, 73 of the companies will look to recruit out of a pool of between 1 and 5 candidates.
The survey included 682 small, medium and large companies based in Romania.
Most open positions in the second half of this year will be for office jobs (white collars, 47 percent), followed by skilled workers (41 percent). Companies are looking for candidates for full-time positions, while only 24 percent of employers say they plan to recruit for part-time or project-based positions. Most new positions between July and December 2018 are targeting to candidates with 2-5 years of experience (54 percent), followed by entry-level candidates with up to 2 years of experience (37 percent).