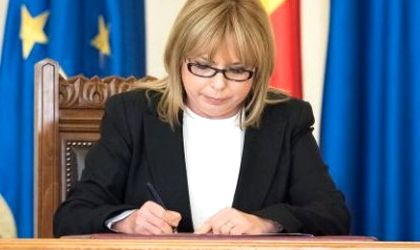 The salary increases for more recently approved budgetary categories by the deputies from several specialty commissions might cost RON 4.85 billion (over EUR 1 billion), and this cost can't be included in next year's budget, says the minister of Finance, Anca Dragu.
According to her, a decision regarding the notification of these measures at the Constitutional Court will be taken after the Parliament will adopt the final form of the ordinance regarding the public sector wages.
"It's a very big impact that cannot be included in the budget for 2017, taking into account the fiscal-budgetary policies and the commitments in this field. I'm referring mainly to the budgetary deficit target of 3 percent. According to the Constitution, any increase in the expense must be followed by a correspondent growth in the incomes or a reduction in expenses. We'll see what form will be adopted in the Parliament and we'll take a decision afterwards if we're denying it or not at the Constitutional Court," said Dragu.
On the other hand, Dragu said that the representatives of the Finance Ministry will start the analysis for the budgetary adjustment in the conditions in which they have preliminary data for October. Supplementary funds will be allocated for the projects that "are well in execution" while the projects with reduced perspectives of finishing the allocated resources might be diminished.
"For 2017 to continue the investments policies, salaries, pensions, according to the legislation and according to 2016, we don't need other expenses. It's a policy decision to replace some expenses with others, " added Dragu.
Georgiana Bendre